Boardgame-Designer
Boardgame-Designer
Das sind meine derzeitigen Favoriten.
Der/Die ein oder andere von Euch wird sich evtl. wundern, warum da nicht die üblichen Verdächtigen Teuber, Kramer und Kiesling stehen. Was soll ich sagen – ja mei….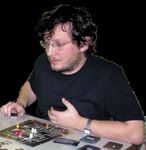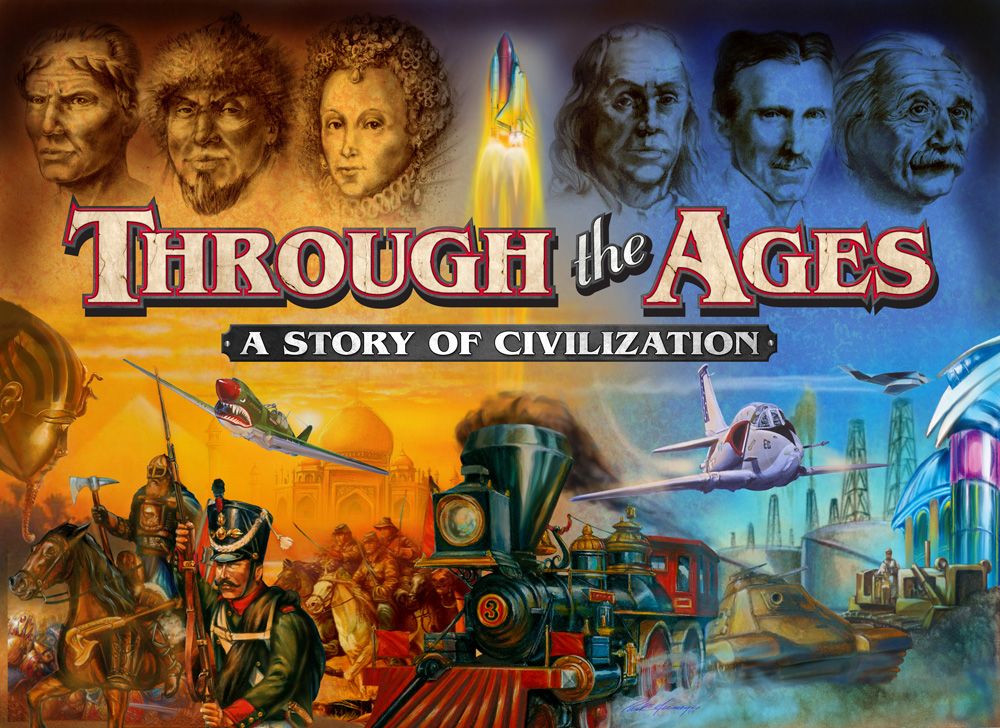 Through the Ages is a civilization building game. Each player attempts to build the best civilization through careful resource management, discovering new technologies, electing the right leaders, building wonders and maintaining a strong military. Weakness in any area can be exploited by your opponents. The game takes place throughout the ages beginning in the age of antiquity and ending in the modern age. One of the primary mechanisms in TTA is card drafting. Technologies, wonders, and leaders come into play and become easier to draft the longer they are in play. In order to use a technology you will need enough science to discover it, enough food to create a population to man it and enough resources (ore) to build the building to use it. While balancing the resources needed to advance your technology you also need to build a military. Military is built in the same way as civilian buildings. Players that have a weak military will be preyed upon by other players. There is no map in the game so you cannot lose territory, but players with higher military will steal resources, science, kill leaders, take population or culture. It is very difficult to win with a large military, but it is very easy to lose because of a weak one. Victory is achieved by the player whose nation has the most culture at the end of the modern age.
---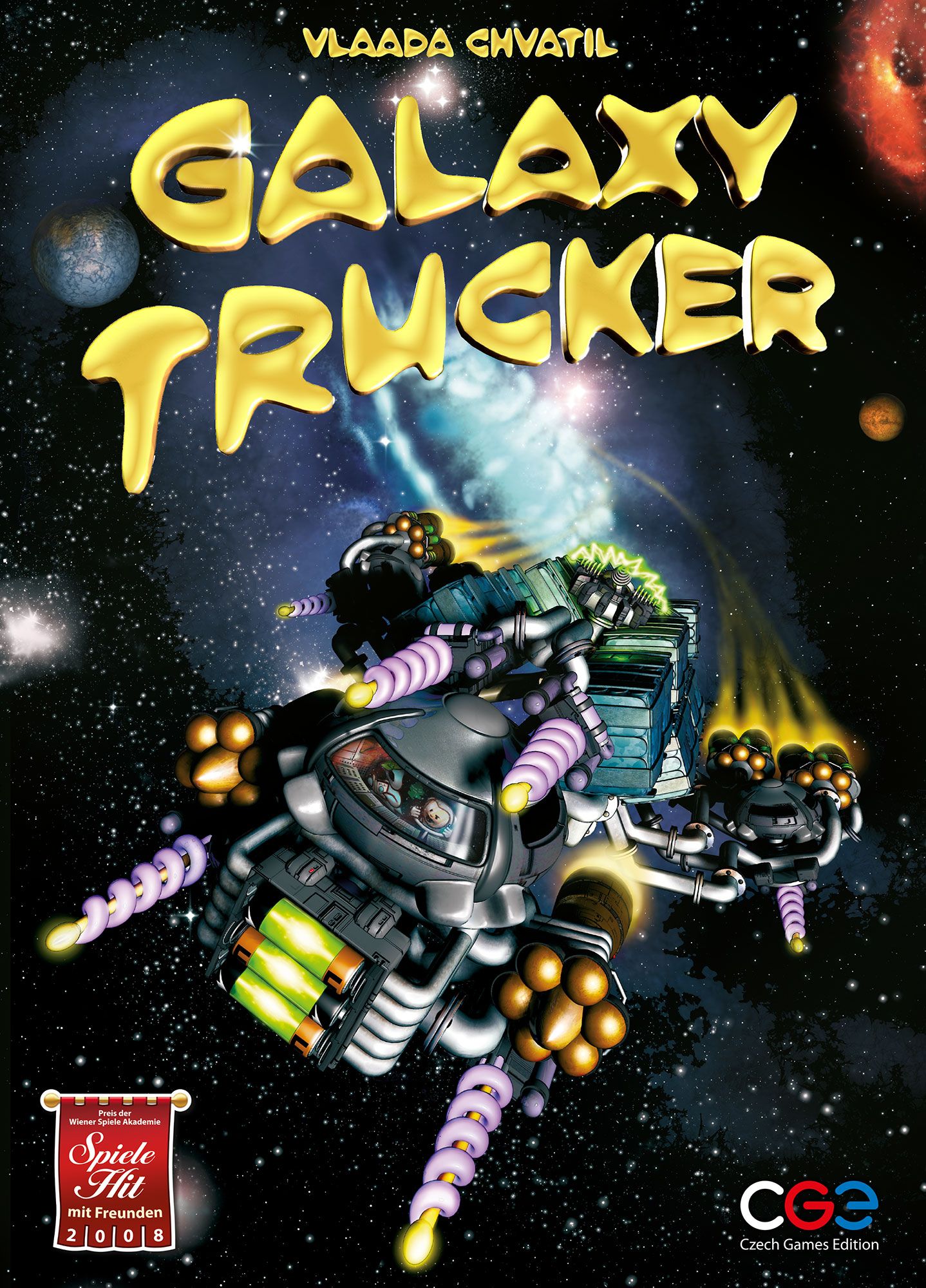 In a galaxy far, far away... they need sewer systems, too. Corporation Incorporated builds them. Everyone knows their drivers -- the brave men and women who fear no danger and would, if the pay was good enough, even fly through Hell. Now you can join them. You will gain access to prefabricated spaceship components cleverly made from sewer pipes. Can you build a space ship durable enough to weather storms of meteors? Armed enough to defend against pirates? Big enough to carry a large crew and valuable cargo? Fast enough to get there first? Of course you can. Become a Galaxy Trucker. It's loads of fun. Galaxy Trucker is a tile laying game that plays out over two phases: building and flying. The goal is to have the most credits at the end of the game. You can earn credits by delivering goods, defeating pirates, building an efficient ship, and being the furthest along the track at the end of the flying phase. Building happens in real time and has players build their personal space ships by grabbing tiles from the middle of the table before the timer runs out. Tiles start out facedown so they won't know what they have until they take it, but they may choose to return it faceup if they don't want it. They must place the tiles they keep in a legal manner in their space ship. Usually this just means lining up the connectors appropriately (single to single, double to double, universal to anything) but also includes proper positioning of guns and engines. Tiles represent a variety of things including guns, engines, storage containers, crew cabins, shields, and batteries. They may also peek at the cards they will encounter in phase 2, but they must sacrifice building time to do this. At any time players may call their ships finished and take an order marker from the center. Once building is completed, and ships have been checked for errors, the flight begins. The flight cards are shuffled and player markers are placed on the flight board according to the order markers taken. Cards are revealed one at a time and players interact with them in order. They may include things such as pirates, abandoned vessels, disease outbreaks, meteor showers, worlds with goods to pick up, player-on-player combat zones, and other various things. Most of the cards will cause players to move back on the flight track and they must decide if the delay is worth their efforts. When all the cards are encountered players sell any goods they have collected, collect their rewards for finishing in first, second, or third place or having the most intact ship, and then lose some credits for damaged components. Space can be a very dangerous place and it is not uncommon to see your ship break into smaller and smaller pieces or lose some very valuable cargo off the side. If your ship gets damaged too much you can get knocked out of the race, so be careful! 3 rounds of this are done, and in each round players get a bigger board to build a ship that can hold more components. After the 3rd round the player with the most credits wins!
---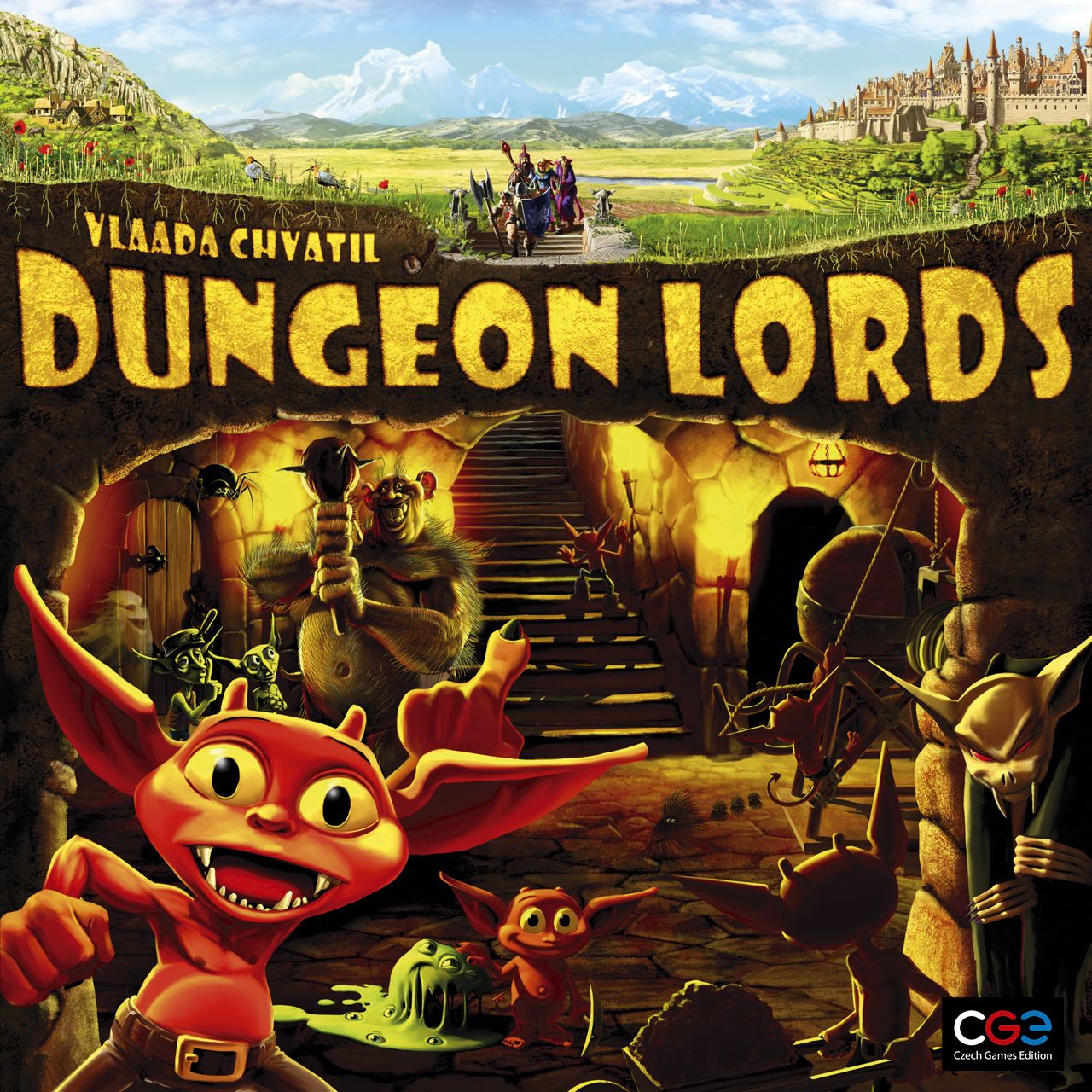 In Dungeon Lords, you are an evil dungeonlord who is trying to build the best dungeon out there. You hire monsters, build rooms, buy traps and defeat the do-gooders who wish to bring you down. From the publisher's webpage: Have you ever ventured with party of heroes to conquer dungeons, gain pride, experiences and of course rich treasure? And has it ever occurred to you how hard it actually is to build and manage such underground complex filled with corridors and creatures? No? Well now you can try. Put yourself in role of the master of underground, summon your servants, dig complex of tunnels and rooms, set traps, hire creatures and try to stop filthy heroes from conquering and plundering your precious creation. We can guarantee you will look on dark corners, lairs and their inhabitant from completely different perspective! Each turn, players use a hand of cards to choose where to place their worker. Actions vary from mining gold, hiring monsters, buying traps etc. Each action has three spots available - with each spot having different effects (e.g. mining gold lets you mine more gold in each spot). When using the cards, two cards will become locked and will not be able to be used next turn. There are 4 turns to place actions for each game "year" and two game years in a whole game. Each turn is identified as a "season". Each season, players will get to see the heroes and events to come in the following season. Thus allowing them to prepare. At the end of each season (after the first), heroes will be allocated to each player according to their level of evil. Heroes range from mighty heroes to sneaky thieves. Each hero has their own power for which the player needs to prepare for. Finally, at the end of each year, the heroes will travel down into the dungeon to fight. Scoring in the game is based upon what you have built, the monsters you have hired and the heroes you have captured.
---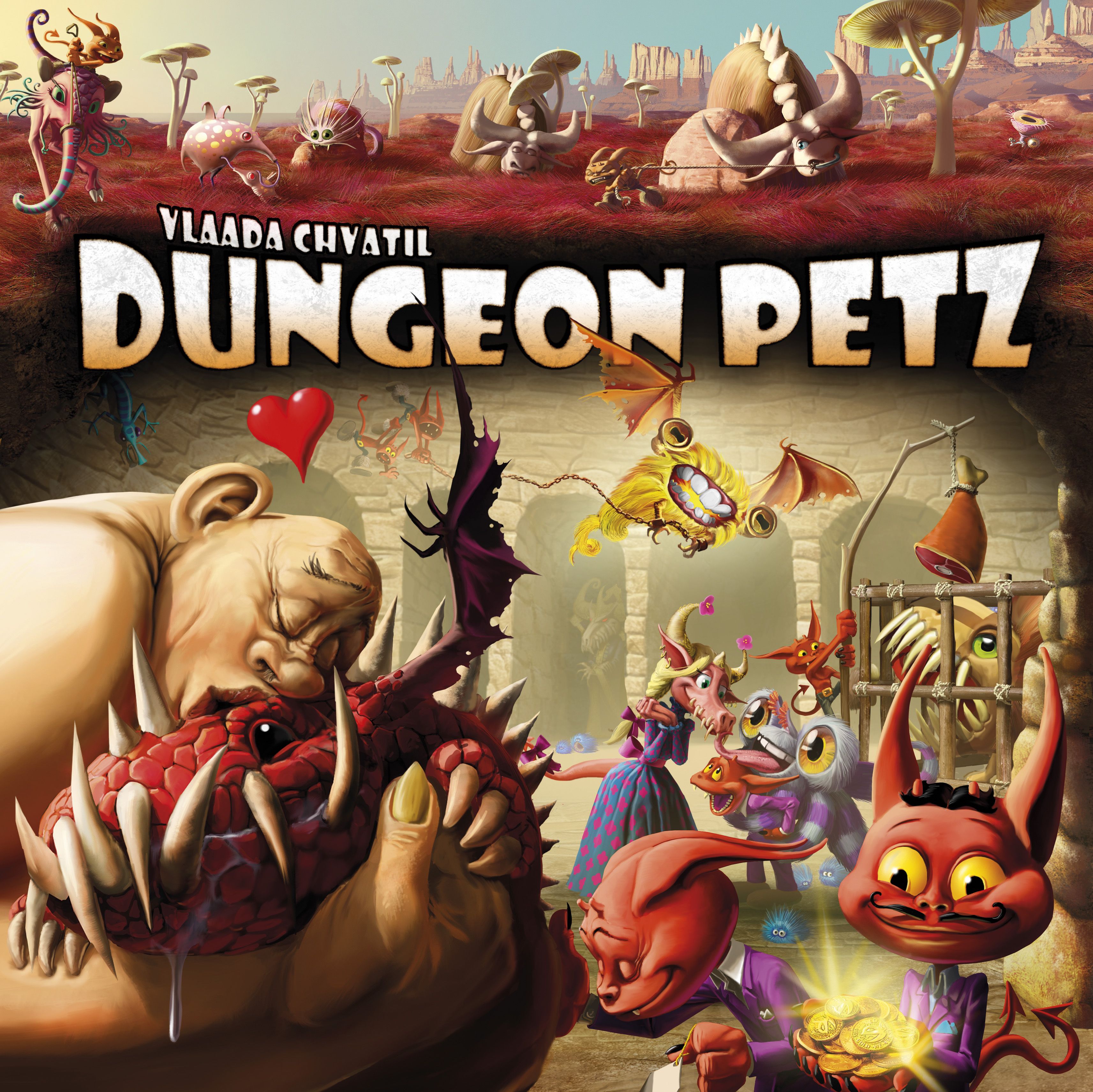 Become the leader of an imp family that has just started a new business – breeding and selling petz. Sound simple and safe? Well, we forgot to mention that those petz are for Dungeon Lords. This means magical, playful, sometimes angry monsters that constantly desire attention and at the very moment you want them to demonstrate their qualities to buyers they are sick or they poop. Sometimes you are even glad that you got rid of them – but the profit is unbelievable. Dungeon Petz is a standalone game set in the Dungeon Lords universe. The game consists of several rounds in which players use unusual worker placement mechanisms (players simultaneously prepare different sized groups of imps in order to play sooner than others) to prepare themselves for the uneasy task of raising creature cubs and pleasing their different needs (represented by cards) in order to sell them as grown and scary creatures to Dungeon Lords. In the meantime, they also attend various contests in which they show off their pets, scoring additional points.
---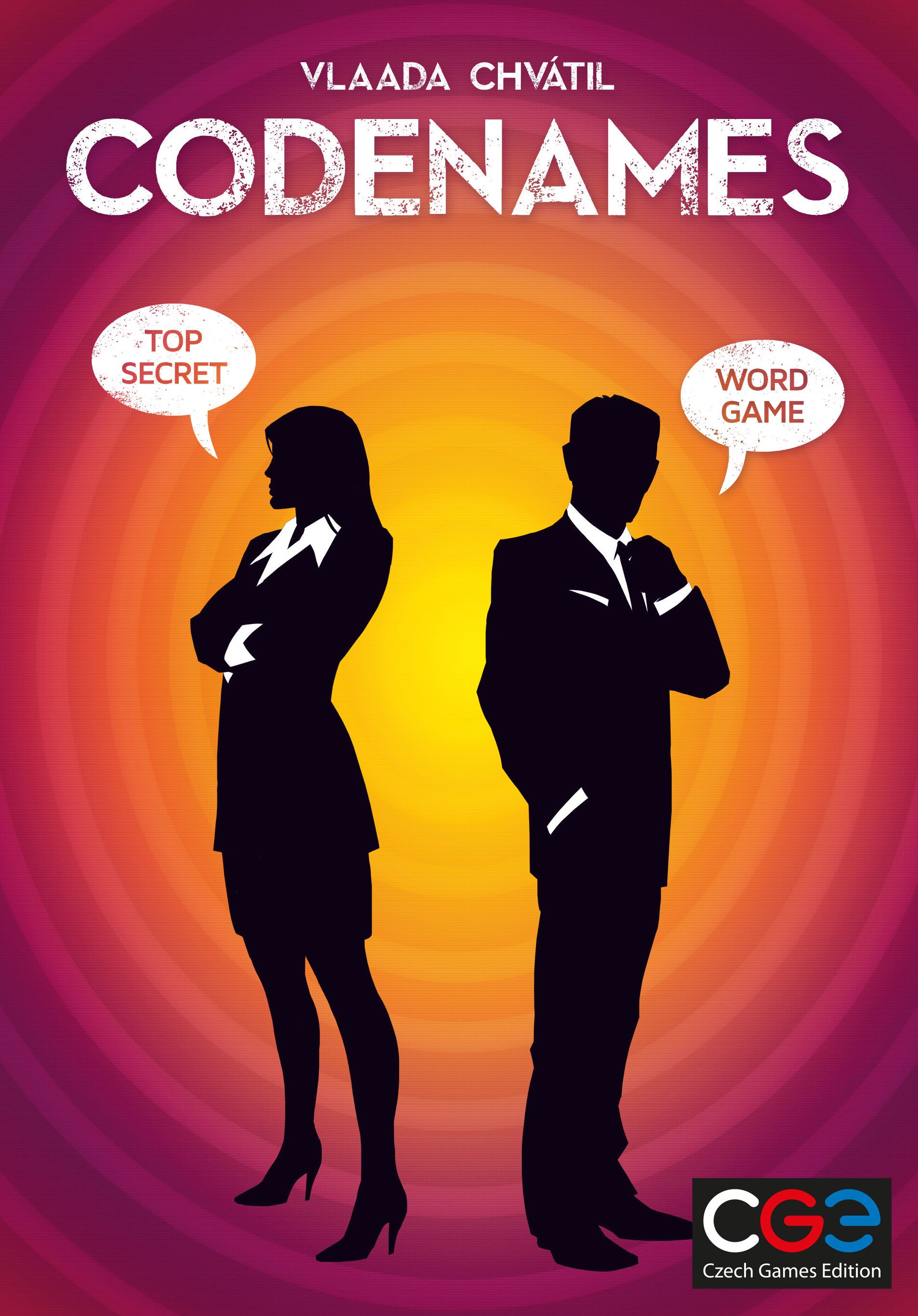 Two rival spymasters know the secret identities of 25 agents. Their teammates know the agents only by their CODENAMES. In Codenames, two teams compete to see who can make contact with all of their agents first. Spymasters give one-word clues that can point to multiple words on the board. Their teammates try to guess words of the right color while avoiding those that belong to the opposing team. And everyone wants to avoid the assassin. Codenames: Win or lose, it's fun to figure out the clues.
---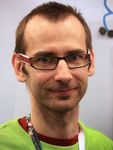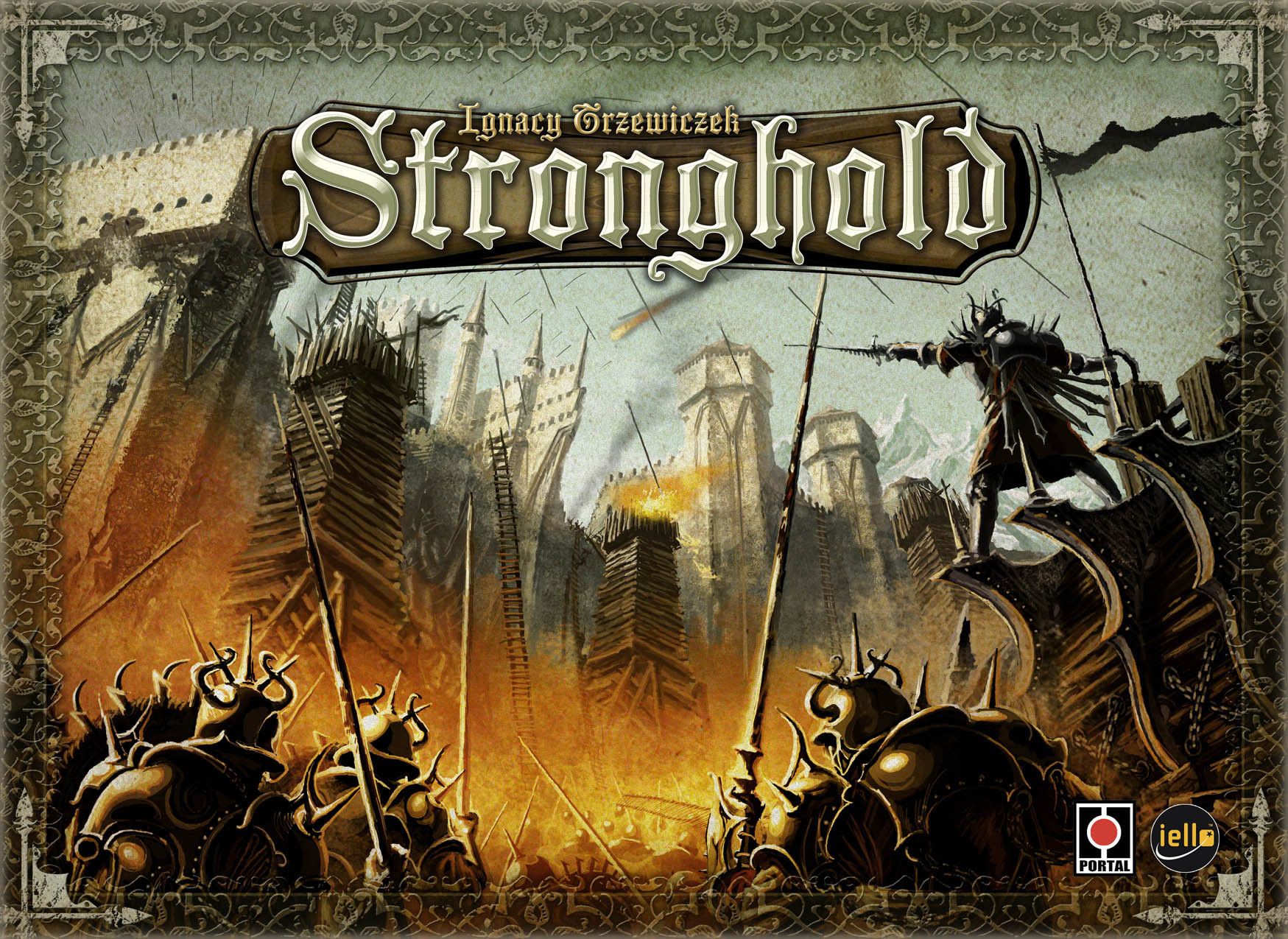 Stronghold is a game telling the story of a siege. Players take opposite sides, one has to defend the stronghold, the other has to break into the castle as soon as possible. As time passes, defenders get Victory Points every turn for their efforts on the walls. The game board represents the stronghold itself as well as the surrounding terrain, where enemy forces are placed and whence they proceed to the walls. The defender has a small number of soldiers manning the walls, while the invader has an infinite legion of attacking creatures. A desperate fight is taking place every single turn. The invaders build war machines, equip their soldiers, train them and use black magic rituals to achieve victory. Meanwhile, defenders repair walls, build cannons, train soldiers, and do everything they can to hold the castle as long as possible.
---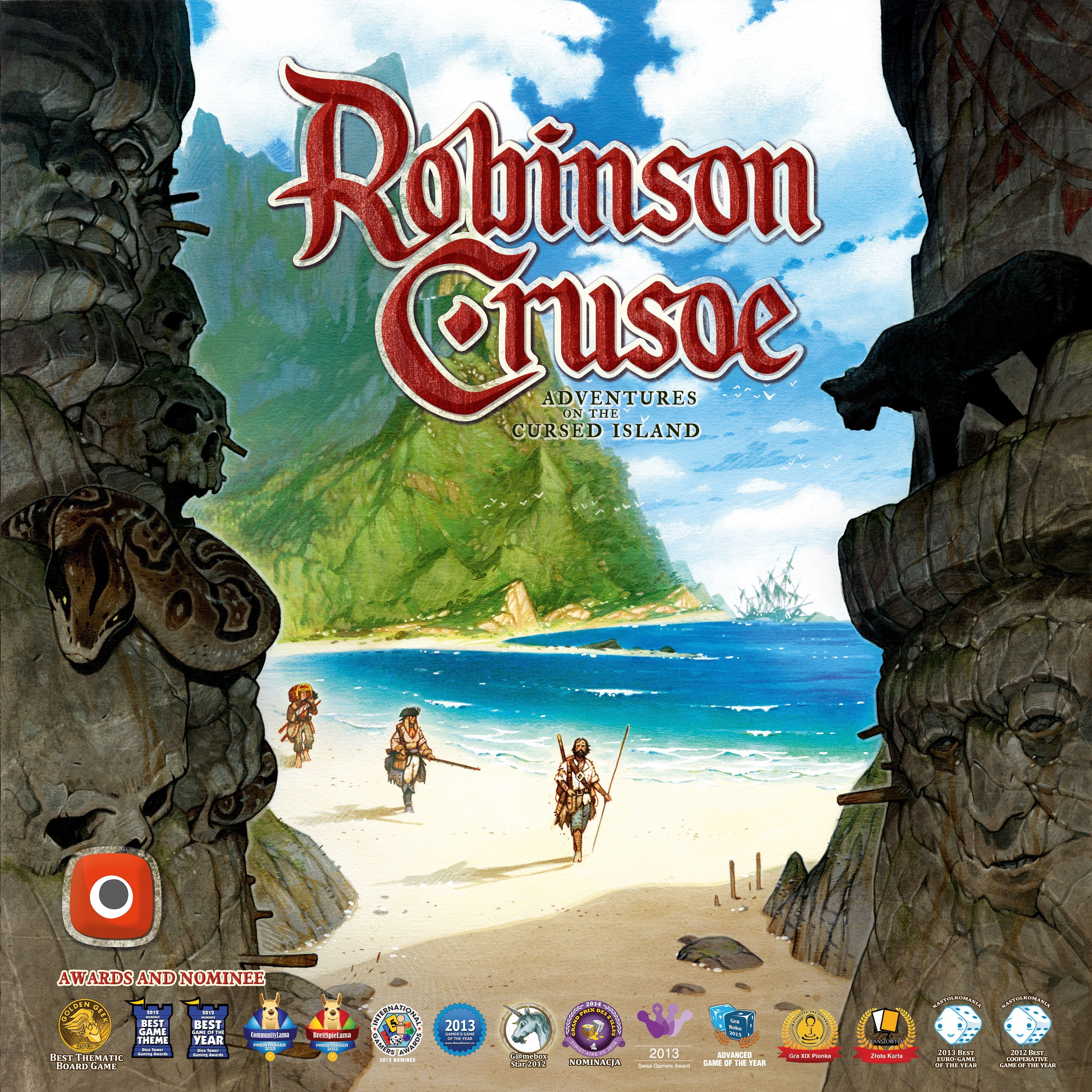 Robinson Crusoe: Adventures on the Cursed Island is a game created by Ignacy Trzewiczek, the author of Stronghold. This time Trzewiczek takes the players to a deserted island, where they'll play the parts of shipwreck survivors confronted by an extraordinary adventure. They'll be faced with the challenges of building a shelter, finding food, fighting wild beasts, and protecting themselves from weather changes. Building walls around their homes, animal domestication, constructing weapons and tools from what they find and much more awaits them on the island. The players decide in which direction the game will unfold and – after several in-game weeks of hard work – how their settlement will look. Will they manage to discover the secret of the island in the meantime? Will they find a pirate treasure, or an abandoned village? Will they discover an underground city or a cursed temple at the bottom of a volcano? Answers to these questions lie in hundreds of event cards and hundreds of object and structure cards that can be used during the game... Robinson Crusoe: Adventures on the Cursed Island is an epic game from Portal. You will build a shelter, palisade, weapons, you will create tools like axes, knives, sacks, you will do everything you can to… to survive. You will have to find food, fight wild beasts, protect yourself from weather changes… Take the role of one of four characters from the ship crew (cook, carpenter, explorer or soldier) and face the adventure. Use your determination skills to help your team mates, discuss with them your plan and put it into practice. Debate, discuss, and work on the best plan you all can make. Search for treasures. Discover mysteries. Follow goals of six different, engaging scenarios. Start by building a big pile of wood and setting it on fire to call for help, and then start new adventures. Become an exorcist on cursed Island. Become a treasure hunter on Volcano Island. Become a rescue team for a young lady who's stuck on rock island… Let the adventure live!
---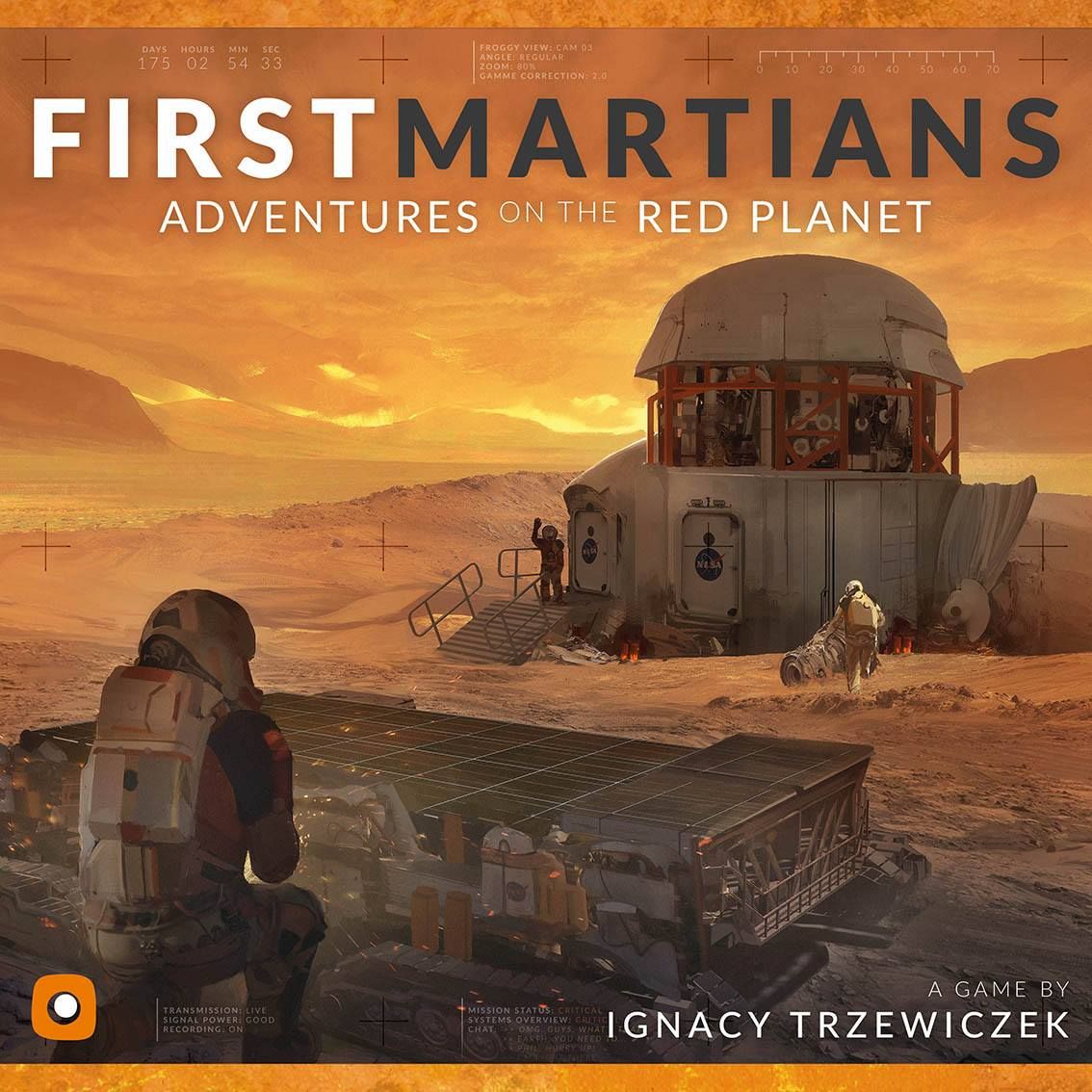 Built on the core of the award-winning Robinson Crusoe: Adventures on the Cursed Island, First Martians: Adventures on the Red Planet pits players against the hostile Martian environment and a whole host of new adventures and challenges. The immersive experience is further enhanced with an integrated app that maintains the balance and challenge throughout. Players have the option of taking on the design as a series of separate games, in a custom campaign mode in which each successive game builds on the last.
---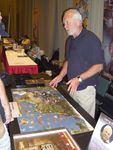 Axis and Allies is the most successful of Milton Bradley's Gamemaster series. It depicts WWII on a grand scale, full global level. Up to five players can play on two different teams. The Axis which has Germany and Japan, and the Allies which has the USA, the United Kingdom, and the USSR. A full map of the world is provided, broken up in various chunks similar to Risk. The game comes with gobs of plastic miniatures that represent various military units during WWII. Players have at their disposal infantry, armor, fighters, bombers, battleships, aircraft carriers, submarines, troop transports, anti-air guns, and factories. All of the units perform differently and many have special functions. Players have to work together with their teammates in order to coordinate offenses and decide how best to utilize their production points. Players also have the option of risking production resources on the possibility of developing a super technology that might turn the tide of war. Axis and Allies was originally published by Nova Games in 1981. Re-implemented by: Axis & Allies Anniversary Edition Axis & Allies: Global 1940 (Axis & Allies Pacific 1940 combined with Axis & Allies Europe 1940) Expanded by: Totally Untested Volume 2 of Max's Advanced Rules for Axis & Allies (Unofficial expansion) Conquest of the Pacific (Unofficial expansion) Midway (Unofficial expansion)
---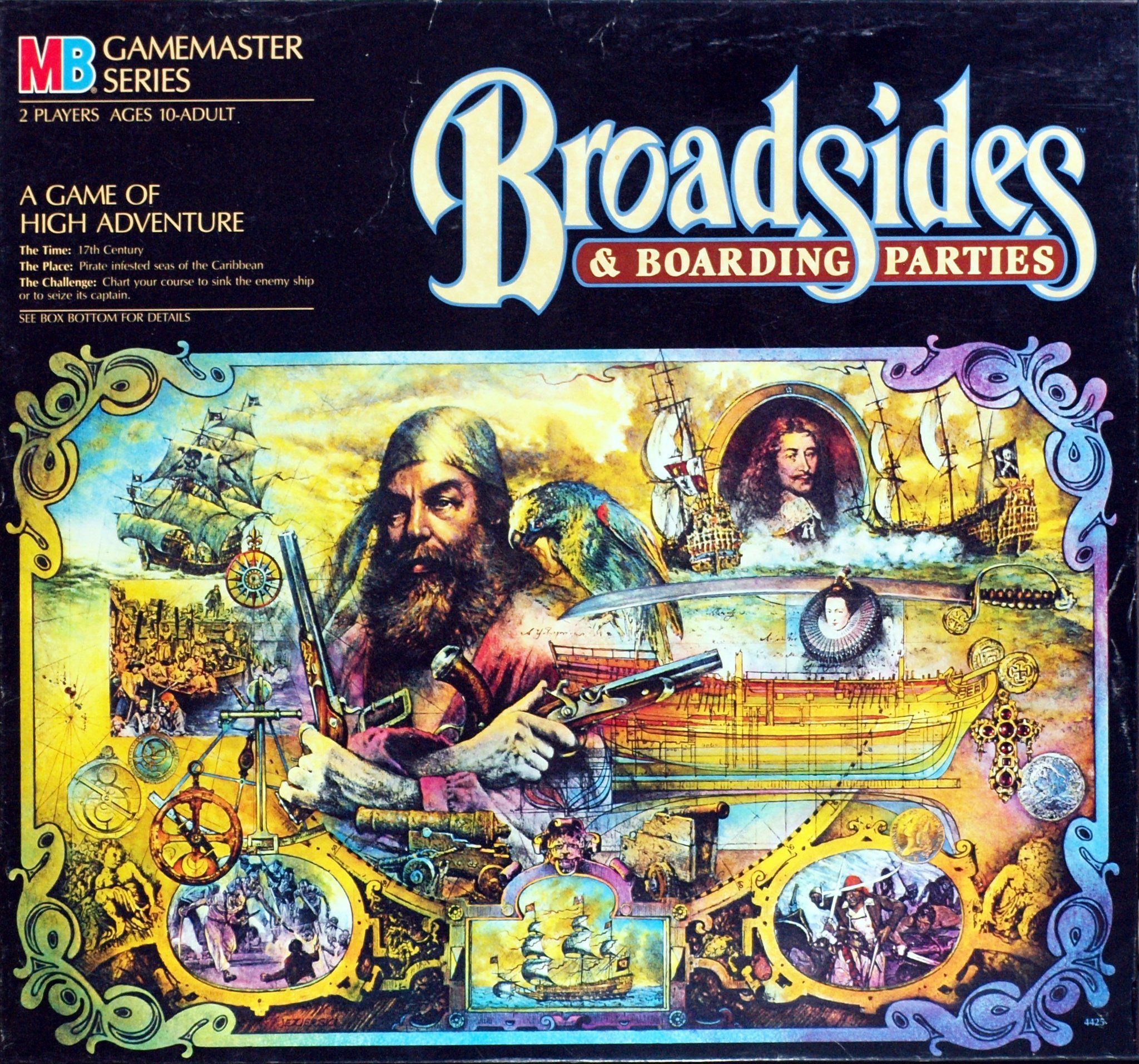 Broadsides and Boarding Parties was the first title in Milton Bradley's Gamemaster series of games. It is a light tactical war game during the age of sail where two ships face off against one another on the sea. There are basically two layers to the game, the broadsides portion in which players plot their movement with a deck of cards, attempting to maneuver their ships in such a way that they can fire a volley of cannon balls at the opponent while minimizing the risk of return fire. The second layer of the game begins when the movement of ships results in them bumping into one another. In these instances the Boarding Parties portion comes into play. Here players line up their ships next to one another and attempt to storm the other ship and kill the opposing captain. Players can only move a limited amount of their units each turn and so some planning is required to hem in the opposing captain. The components for the game are quite elaborate. Each player is given a fully detailed plastic ship about a foot long with removable masts. Also, each player is given a whole crew of little plastic pirate figures, cannon, and captain. Lastly the board is full color and styled in the period. Note that the first edition was published in 1982 by Larry Harris, Jr. (Citadel Game Systems) and came in a box similar in size to the Games Workshop Ltd. or The Avalon Hill Game Co games. There are no elaborate plastic ships, cannons or playing pieces in the original edition, though. You get paper maps and cardboard counters.
---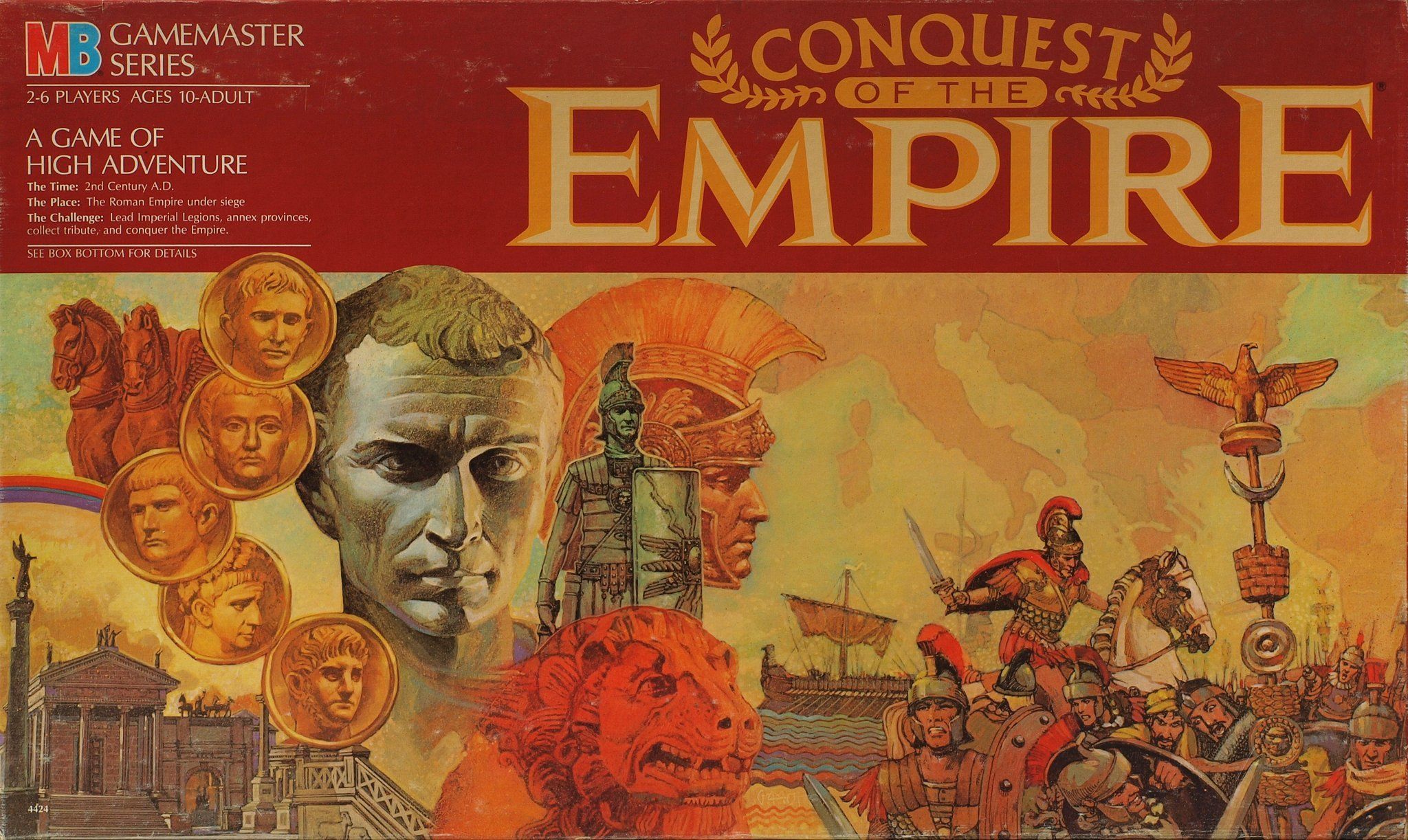 Conquest of the Empire is part of Milton Bradley's Gamemaster series. It is set during the Roman Empire and depicts the struggle around the Mediterranean as rival factions attempt to take control of the empire. Each player plays one of these factions and receives a Caesar figure, several general figures, and ships of a specific color. Along with these leaders, players utilize a pool of generic units composed of infantry, cavalry, and catapults. All game pieces are plastic figures. Players attempt to conquer their neighbors and build up cities and fortifications to increase production of wealth. Players also may build road networks that allow for faster movement, by all armies. Along the way players have to contend with rising inflation which makes military units more and more expensive. Eventually through elimination one player pulls ahead for the win. Re-implemented by: Eagle Games's Conquest of the Empire (2005)
---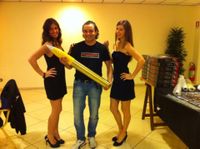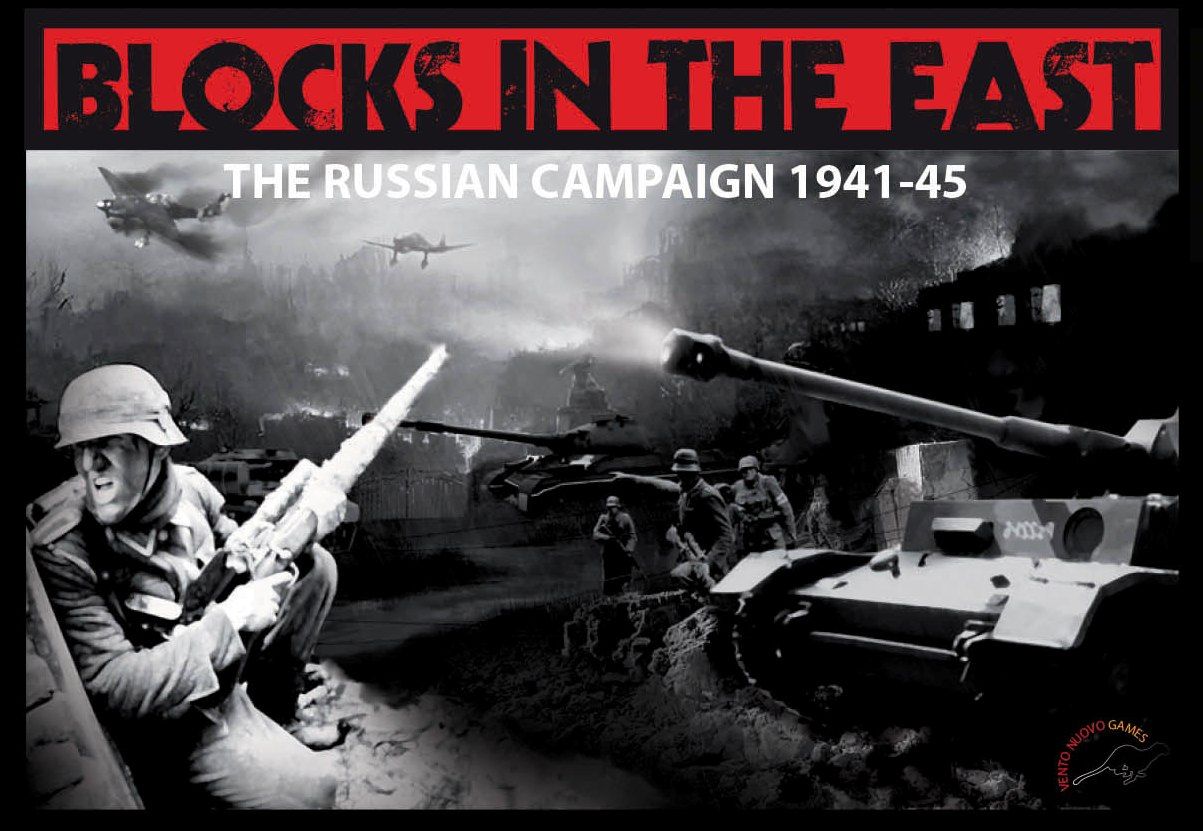 On 22 June 1941, under the codeword "Dortmund", the German Wehrmacht and other Axis powers started the invasion of the Soviet Union. Over 150 divisions – ca. 3,6 million troops – of the Axis invaded the USSR along a front of 2,900 km. In addition to troops, Barbarossa involved 600,000 motor vehicles, 750,000 horses, 3350 tanks, 7300 guns, and nearly 2000 planes – the largest invasion in the history of warfare. BLOCKS IN THE EAST is a game of World War II conflict simulation at the strategic level. It recalls the most decisive battles fought on the Eastern Front from the beginning of the invasion in summer 1941 until the dramatic end in Berlin in spring 1945. Although based on historical events and battles, the players in command of the two factions can modify the evolution of World War II. The game is recommended for two or four players: one/two control the Soviet Red Army and the other one/two control Germany and the other Axis powers. In a threesome, one player controls one faction while the other two players control the other faction. The game is furthermore suitable for solitary play: the single player just controls both sides. In this case, a play with Fog of War is suggested. Developed with a system of wooden blocks and cubes and played out over an astonishing 125x87 cm (49"x34") full laminated multicolor mapboard, the only paper component in the box is the rules manual. In total, more than 600 wooden/plastic components have been created by the best Italian artisinal industry and painted "A buratto", a technique usually adopted for painting car parts and accessories. The rules are divided into three major sections which can be learned one at a time: • The Basic Game Rules introduce the basic concepts of BITE and enable players to start playing the game without too many rules to remember. • The Advanced Game Rules provide more specific and detailed rules for enhanced realism, such as the use of Fuel and the Advanced Production System. • The Optional Rules are for those who want to get the most out of the game, with rules for Technology Research, Strategic Warfare with the bombing of Germany and U-boat campaigns in the oceans, Amphibious Landings, Airborne Assaults, and more. In BLOCKS IN THE EAST, a hexagon is approximately 53 miles (70 km) across, a turn is 1 month long, and a full-strength counter represents a major military formation (normally corps size) with 300 planes, 300 tanks, or 30,000 men, depending on the unit type, equipment, nationality, etc. The game can be played with "Fog of War" on (with the faces of wooden blocks hidden from the opponent) or off (all units are visible). Players can compete in the full 1941 Codeword Dortmund Campaign, in one of four six-turn scenarios ("Operation Barbarossa 1941", "Case Blue - The Drive to Baku 1942", "Operation Citadel - The Battle of Kursk 1943" and "Bagration Offensive in Summer 1944"), or one of the shorter, easy-to-learn scenarios ("Road to Rostov", which lasts six turns, or any of these scenarios: "Road to Leningrad", "Road to Moscow" or "Short Barbarossa"). Each scenario has different victory conditions and length, with a playing time from 1 to 49 turns. BLOCKS IN THE EAST can be played standalone or combined with Blocks in the West and Blocks in Afrika.
---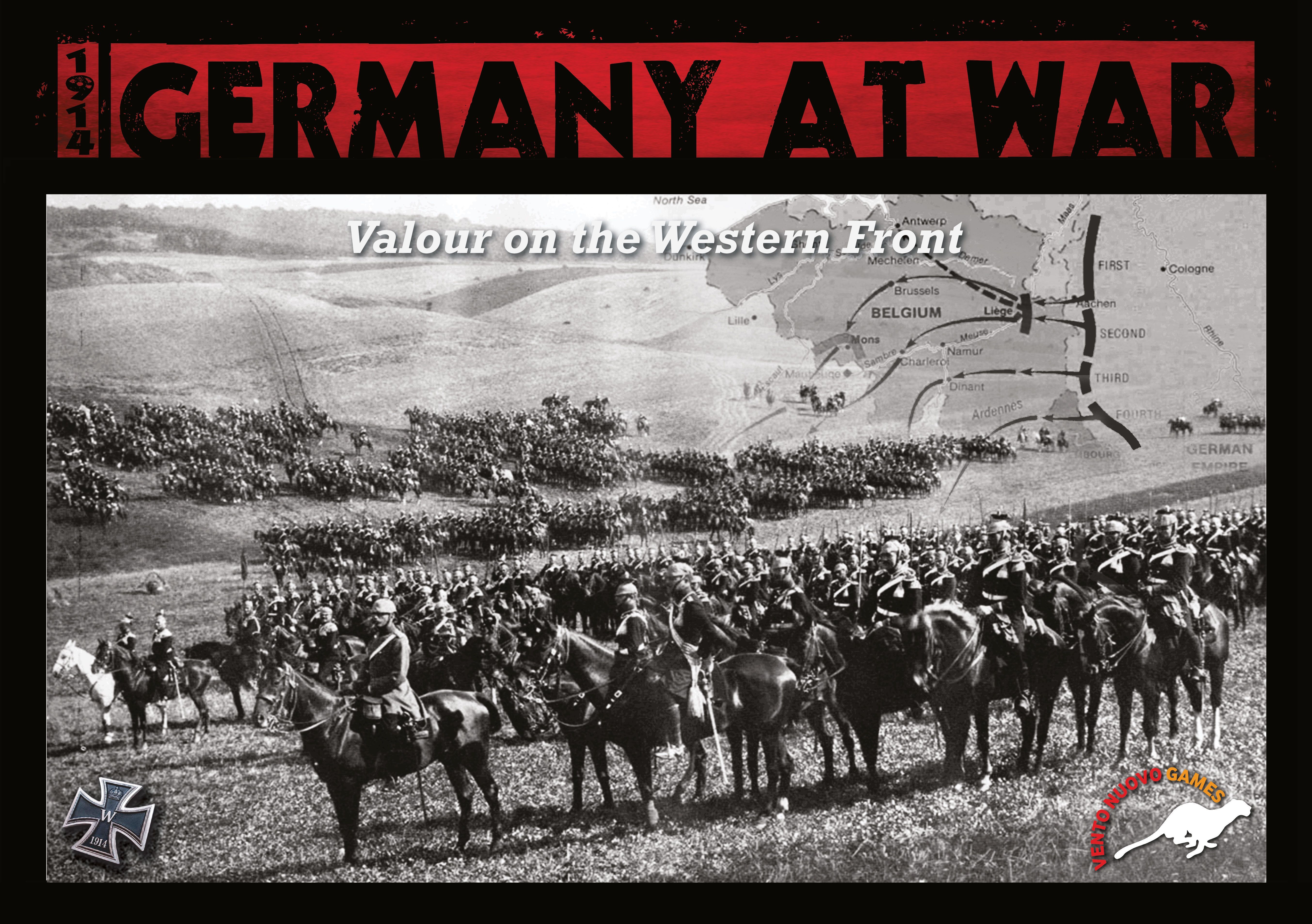 On 28 June 1914, Archduke Franz Ferdinand of Austria and his wife were shot dead in Sarajevo, by Gavrilo Princip, member of the Black Hand, a political organization seeking for a merging of the Balkan area into a Greater Serbia or a Yugoslavia. Austria-Hungary subsequently issued an ultimatum against Serbia. As the ultimatum was rejected, Austria-Hungary then declared war, marking the outbreak of the war. While France and Russia immediately sided with Serbia, Germany joined the Austria-Hungary and started a surprise offensive in the west with the objective of quickly defeating the French, to then turn east and knock the Tzarist Russia out of the war. 1914 is a game of World War I conflict simulation at the strategic level. It recalls the most decisive battles fought by Germany on the Western in 1914. Although based on historical events and battles, the players in command of the two factions can modify the evolution of World War I. The game is recommended for two or three players, but has a good solitaire suitability. Developed with a system of wooden blocks and cubes and played out over a 64x86 cm multicolor mapboard, with more than 200 wooden components painted "A buratto", a technique usually adopted for painting car parts and accessories. The rules are divided into two major sections which can be learned one at a time: • The Game Rules introduce the basic concepts and enable players to start playing the game without too many rules to remember. • The Optional Rules are for those who want to get the most out of the game, with rules for Surprise Attack, Retreat, Marne Offensive, British Fusiliers and more. In 1914, 1 cm is approximately 27 km, a turn is 1 month long, and a full-strength counter represents a major military formation, normally corps size with some divisions. The game must be played with "Fog of War" on (with the faces of wooden blocks hidden from the opponent).
---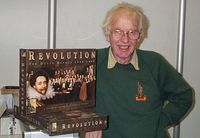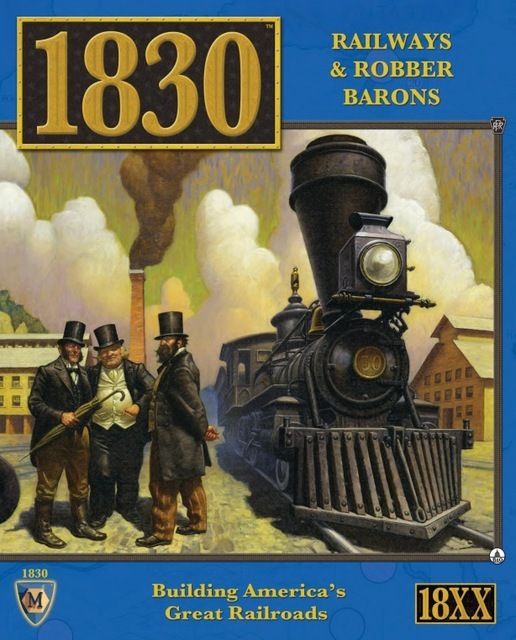 1830 is one of the most famous 18xx games. One of the things some gamers like about this game is that the game has no 'chance' element. That is to say, if players wished to play two games with the same moves, the outcome would be the same also. This game takes the basic mechanics from Tresham's 1829, and adds several new elements. Players are seeking to make the most money by buying and selling stock in various share companies located on eastern United States map. The stock manipulation aspect of the game is widely-regarded as one of the best. The board itself is actually a fairly abstract hexagonal system, with track tiles placed on top of the hexes. Plus each 18xx title adds new and different elements to the game. This game features private rail companies and an extremely vicious, 'robber baron' oriented stock market. A game is finished when the bank runs out of money or one player is forced to declare bankruptcy, and the player with the greatest personal holdings wins. The 2011 version of 1830 was published by Mayfair Games in partnership with Lookout Games of Germany. This publication was developed under license from Francis Tresham in co-operation with Bruce Shelley (the original 1830 developer). This version contains rules and components for Francis Tresham's original classic design, a faster-playing basic game, and new variants from some of the world's best railroad game developers.
---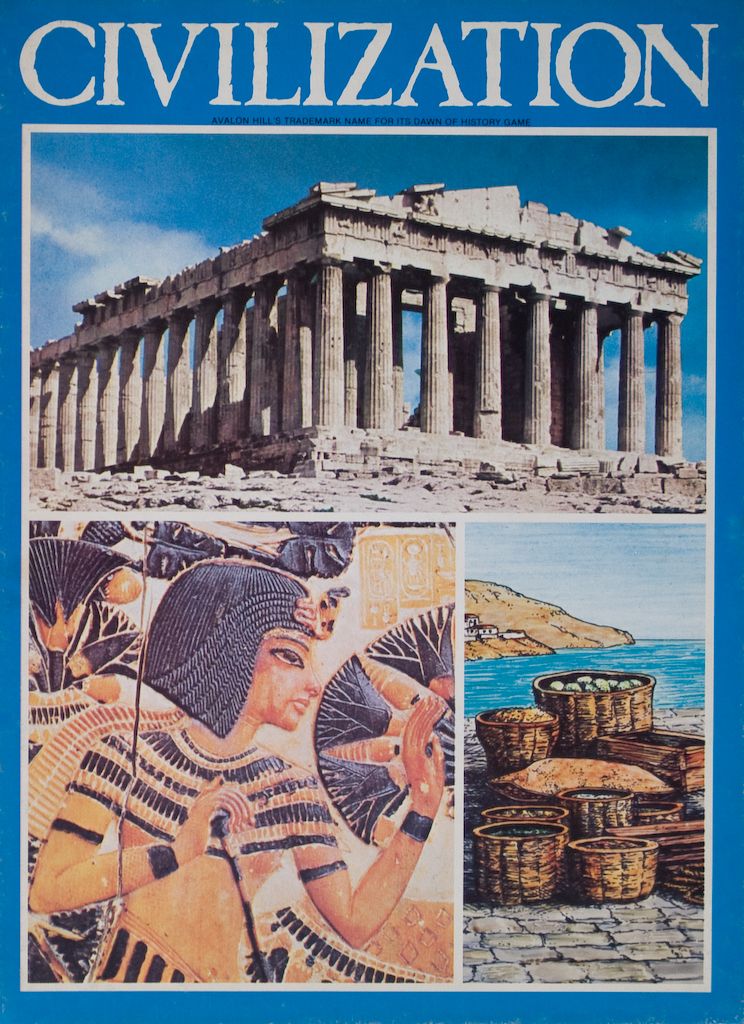 Civilization is a game of skill for 2 to 7 players. It covers the development of ancient civilizations from the invention of agriculture c. 8000 B.C. to the emergence of Rome around the middle of the third century B.C. Each player leads a nation of peoples over a map board of the Eastern Mediterranean and Near East as they attempt to carve a niche for themselves and their culture. Although battles and territorial strategy are important, this is not a war game because it is not won by battle or conquest. Instead, the object of play is to gain a level of overall advancement involving cultural, economic, and political factors so that such conflicts that do arise are a result of rivalry and land shortage rather than a desire to eliminate other players. Nomad and farmer, warrior and merchant, artisan and citizen all have an essential part to play in the development of civilization. It is the player who most effectively changes emphasis between these various outlooks who will achieve the best balance and win. (from the Introduction to the Avalon Hill edition rulebook) This game has a huge following and is widely regarded as one of the best games about ancient civilizations. Each player takes on the role of leader of an ancient civilization, such as the Illyrians or Babylonians. Your task is to guide your people through the ages by expanding your empire and using its proceeds to finance new technological advances, such as Literacy, Metalworking, or Law. The advancements help your civilization better cope with its problems as well as help bring new advancements. Civilization is widely thought to be the first game ever to incorporate a "technology tree," allowing players to gain certain items and abilities only after particular other items were obtained. This influential mechanism has been adopted by countless other board games, card games, and computer games.
---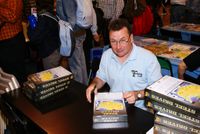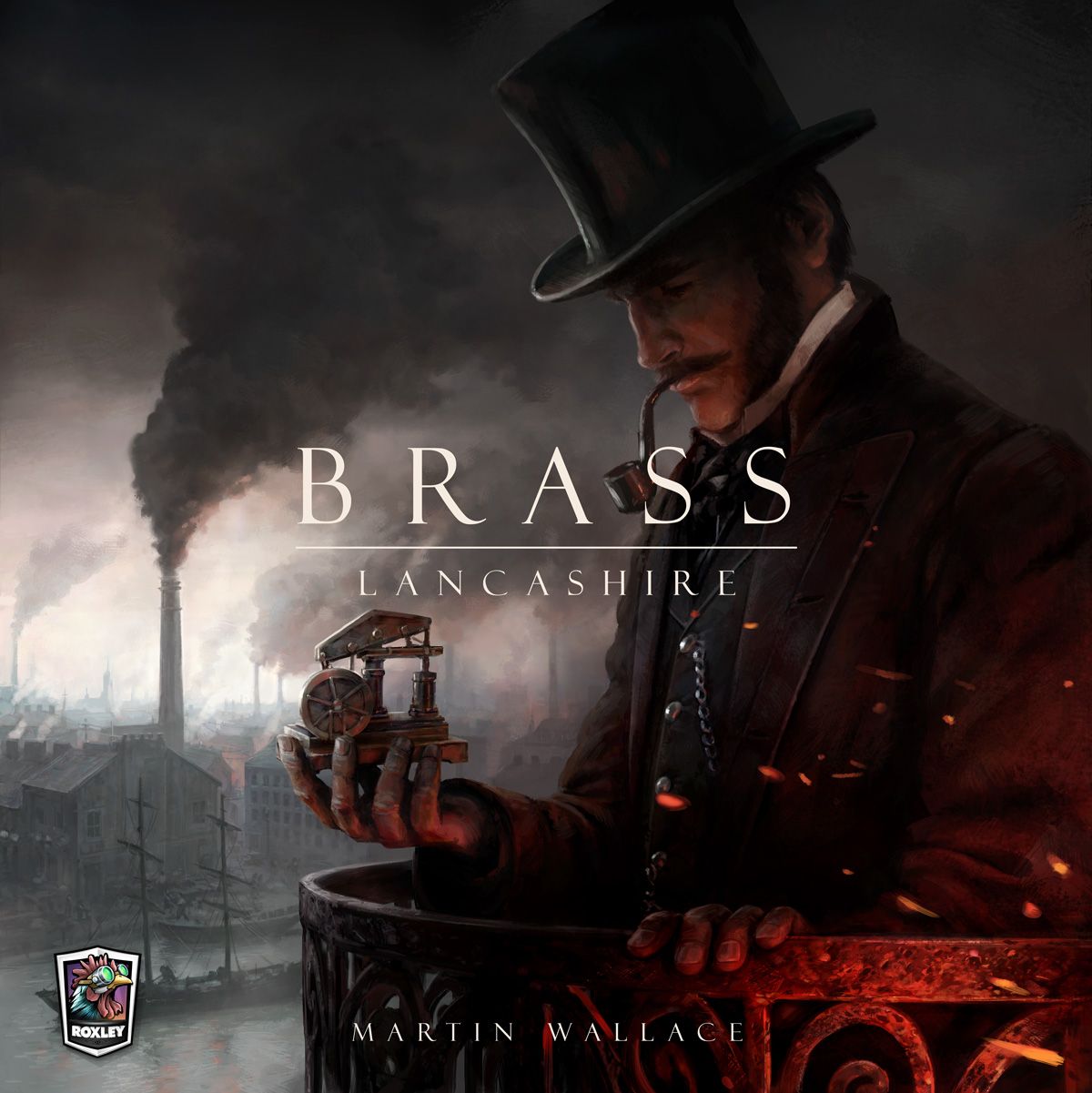 Brass: Lancashire — first published as Brass — is an economic strategy game that tells the story of competing cotton entrepreneurs in Lancashire during the industrial revolution. You must develop, build, and establish your industries and network so that you can capitalize demand for iron, coal and cotton. The game is played over two halves: the canal phase and the rail phase. To win the game, score the most victory points (VPs), which are counted at the end of each half. VPs are gained from your canals, rails, and established (flipped) industry tiles. Each round, players take turns according to the turn order track, receiving two actions to perform any of the following: Build an industry tile Build a rail or canal Develop an industry Sell cotton Take a loan At the end of a player's turn, they replace the two cards they played with two more from the deck. Turn order is determined by how much money a player spent on the previous turn, from lowest spent first to highest spent. This turn order mechanism opens some strategic options for players going later in the turn order, allowing for the possibility of back-to-back turns. After all the cards have been played the first time (with the deck size being adjusted for the number of players), the canal phase ends and a scoring round commences. After scoring, all canals and all of the lowest level industries are removed for the game, after which new cards are dealt and the rail phase begins. During this phase, players may now occupy more than one location in a city and a double-connection build (though expensive) is possible. At the end of the rail phase, another scoring round takes place, then a winner is crowned. The cards limit where you can build your industries, but any card can be used for the develop, sell cotton or build connections actions. This leads to a strategic timing/storing of cards. Resources are common so that if one player builds a rail line (which requires coal) they have to use the coal from the nearest source, which may be an opponent's coal mine, which in turn gets that coal mine closer to scoring (i.e., being utilized). Brass: Lancashire, the 2018 edition from Roxley Games, reboots the original Warfrog Games edition of Brass with new artwork and components, as well as a few rules changes: The virtual link rules between Birkenhead have been made optional. The three-player experience has been brought closer to the ideal experience of four players by shortening each half of the game by one round and tuning the deck and distant market tiles slightly to ensure a consistent experience. Two-player rules have been created and are playable without the need for an alternate board. The level 1 cotton mill is now worth 5 VP to make it slightly less terrible.
---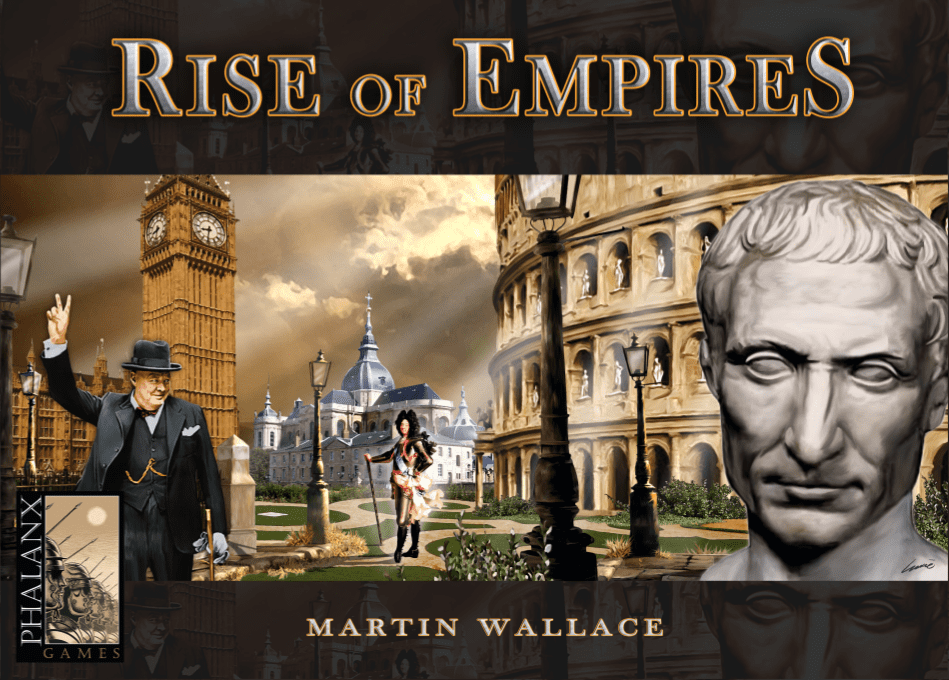 Rise of Empires is an empire-building game in which players develop their ever changing empire from Ancient Age to Modern Age. War, economics, science and diplomacy are to be taken into consideration to successfully win this epic game. In Rise of Empires two to five players are building their own civilization from the dawn of history to present times. All players start small and fairly powerless, however, through clever play they try to gain wealth and progress in several areas. Like many empire building games, it is possible to be wiped from the board one turn, only to return the next in another area. Rise of Empires is divided into three eras. Each era consists of two game turns. The core of the game is the Action Display where players conduct various actions during a turn. The first turn in an era is called the A turn, the second one the B turn. In a way, the B turn is a mirror image of the A turn. The aim of the game is to have the most victory points at the end. Victory points are scored by building cities, having an empire (area control), developing technology, and trading goods. In contrast to some other civilization type games, Rise of Empires plays fairly quickly. A full game can be completed in less than three hours. It is also more abstract than many civ games, in that cities, towns, and technologies are represented by tiles the players keep, even if their civilization is buried in the sands of time. Publisher Blurb: Don't just make history-guide it! Take the reins of a developing civilization, choosing the resources and development paths that will lead to the fastest expansion, as you claim and defend territory on a map forging an empire that eventually encompasses whole continents. Rise of Empires play is divided into three eras. Choices made early in the era are repeated late, so your decisions must have both short-term and long-term benefits to be successful. This process requires tough decision-making and promotes an atmosphere with nail-biting suspense. Victory points are rewarded for building cities, having an empire, for progress in science, and for trading goods. Rise of Empires breathes new life into the civilization games genre! Balance gold and food, war and agriculture, territory and technology to forge an empire that is destined to rise above all other nations! Each copy of Rise of Empires contains: . 1 large game board . 1 tiles display . 40 resource discs . 150 player cubes in 5 colors . 45 action discs in 5 colors . 8 empire tiles . 40 territory tiles . 48 progress tiles . 36 city tiles . 104 gold markers . 5 alliance pieces . 5 player aid cards . 1 rules booklet with illustrated example of play.
---

Struggle of Empires recreates the various wars fought between the European powers as they attempted to become the dominant force in Europe and the rest of the world during the eighteenth century. Build armies and fleets, make alliances, establish colonies, improve your economy, and ultimately wage war to expand your empire. Be careful, though, as a profligate country can end up being consumed by revolution. From the designer: Think of Civilization/Age of Renaissance set in the 18th century. Players take the role of one of the major powers of the period and fight in both Europe and the colonies. The twist to the game is that in each war, players must form into two alliances. Once allied with a player, you cannot fight each other. This means that you do not have the backstabbing of Diplomacy to worry about; if he's allied, he's with you until the end of the war. This means that a player has to think carefully about who he wants to fight against and who he wants to ally with. Very often he will want to ally with his natural enemy and go to war with the guy who doesn't really want to fight him. On top of this, you have lots of improvement tiles that you buy to shape your empire, plus alliances with minor powers, and the possibility of going into revolution. Even though it is a big empire building game, it will scale from 3 to 7 players and has pretty simple rules.
---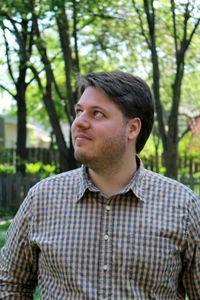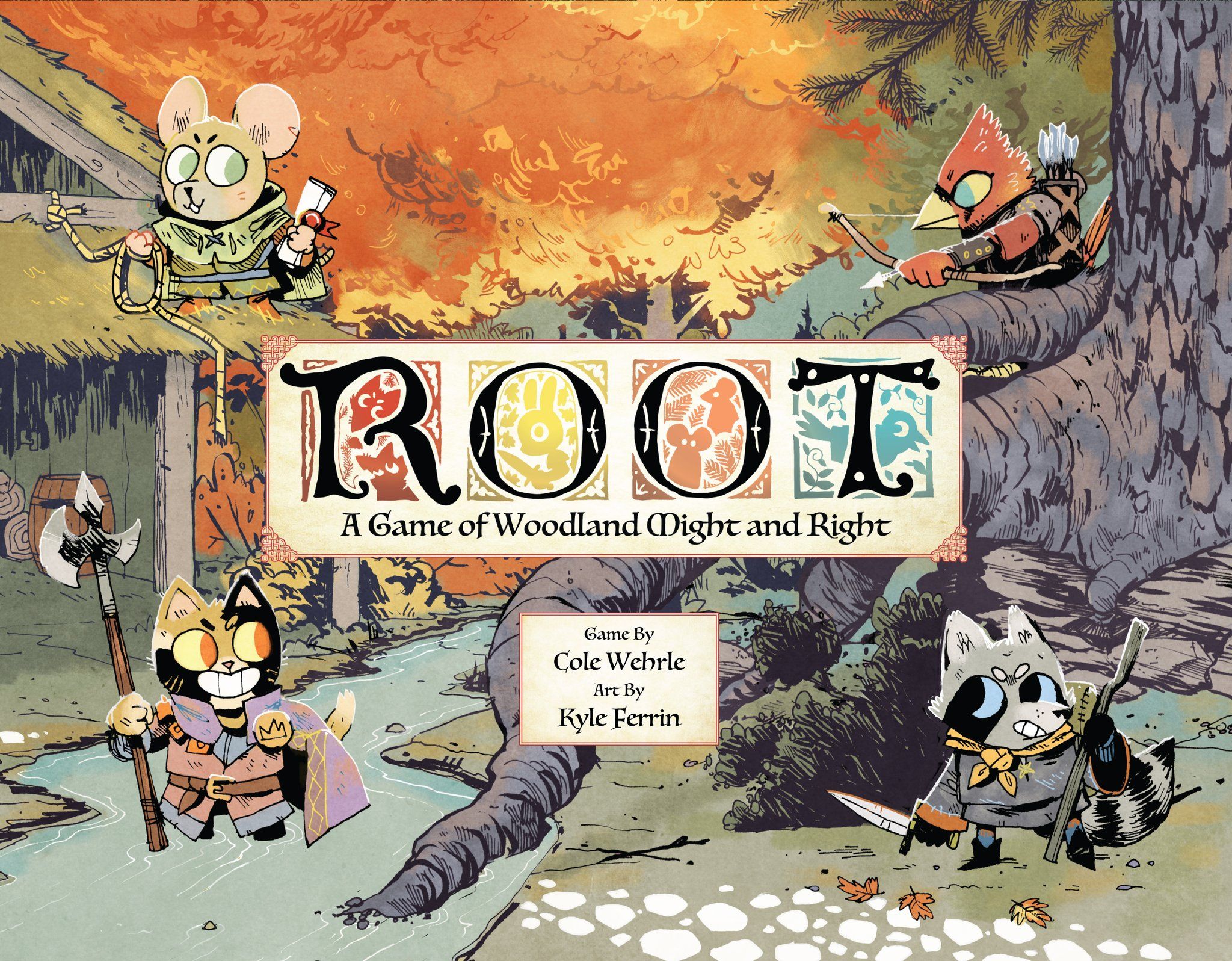 Root is a game of adventure and war in which 2 to 4 (1 to 6 with the 'Riverfolk' expansion) players battle for control of a vast wilderness. The nefarious Marquise de Cat has seized the great woodland, intent on harvesting its riches. Under her rule, the many creatures of the forest have banded together. This Alliance will seek to strengthen its resources and subvert the rule of Cats. In this effort, the Alliance may enlist the help of the wandering Vagabonds who are able to move through the more dangerous woodland paths. Though some may sympathize with the Alliance's hopes and dreams, these wanderers are old enough to remember the great birds of prey who once controlled the woods. Meanwhile, at the edge of the region, the proud, squabbling Eyrie have found a new commander who they hope will lead their faction to resume their ancient birthright. The stage is set for a contest that will decide the fate of the great woodland. It is up to the players to decide which group will ultimately take root. Root represents the next step in our development of asymmetric design. Like Vast: The Crystal Caverns, each player in Root has unique capabilities and a different victory condition. Now, with the aid of gorgeous, multi-use cards, a truly asymmetric design has never been more accessible. The Cats play a game of engine building and logistics while attempting to police the vast wilderness. By collecting Wood they are able to produce workshops, lumber mills, and barracks. They win by building new buildings and crafts. The Eyrie musters their hawks to take back the Woods. They must capture as much territory as possible and build roosts before they collapse back into squabbling. The Alliance hides in the shadows, recruiting forces and hatching conspiracies. They begin slowly and build towards a dramatic late-game presence--but only if they can manage to keep the other players in check. Meanwhile, the Vagabond plays all sides of the conflict for their own gain, while hiding a mysterious quest. Explore the board, fight other factions, and work towards achieving your hidden goal. In Root, players drive the narrative, and the differences between each role create an unparalleled level of interaction and replayability. Leder Games invites you and your family to explore the fantastic world of Root! —description from the publisher
---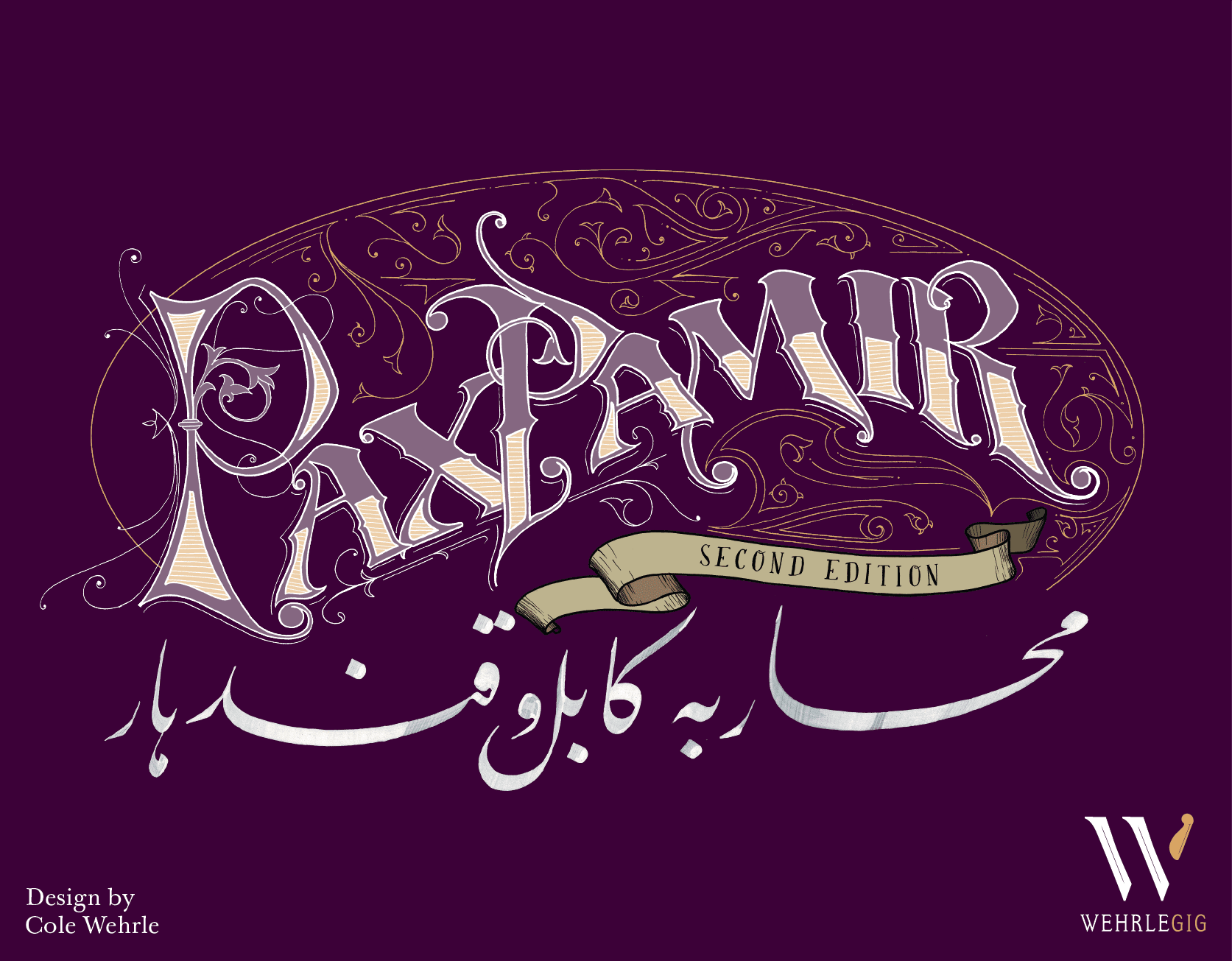 In Pax Pamir, players assume the role of nineteenth century Afghan leaders attempting to forge a new state after the collapse of the Durrani Empire. Western histories often call this period "The Great Game" because of the role played by the Europeans who attempted to use central Asia as a theater for their own rivalries. In this game, those empires are viewed strictly from the perspective of the Afghans who sought to manipulate the interloping ferengi (foreigners) for their own purposes. In terms of game play, Pax Pamir is a pretty straightforward tableau builder. Players spend most of their turns purchasing cards from a central market, then playing those cards in front of them in a single row called a court. Playing cards adds units to the game's map and grants access to additional actions that can be taken to disrupt other players and influence the course of the game. That last point is worth emphasizing. Though everyone is building their own row of cards, the game offers many ways for players to interfere with each other directly and indirectly. To survive, players will organize into coalitions. Throughout the game, the dominance of the different coalitions will be evaluated by the players when a special card, called a "Dominance Check", is resolved. If a single coalition has a commanding lead during one of these checks, those players loyal to that coalition will receive victory points based on their influence in their coalition. However, if Afghanistan remains fragmented during one of these checks, players instead will receive victory points based on their personal power base. After each Dominance Check, victory is checked and the game will be partially reset, offering players a fresh attempt to realize their ambitions. The game ends when a single player is able to achieve a lead of four or more victory points or after the fourth and final Dominance Check is resolved.
---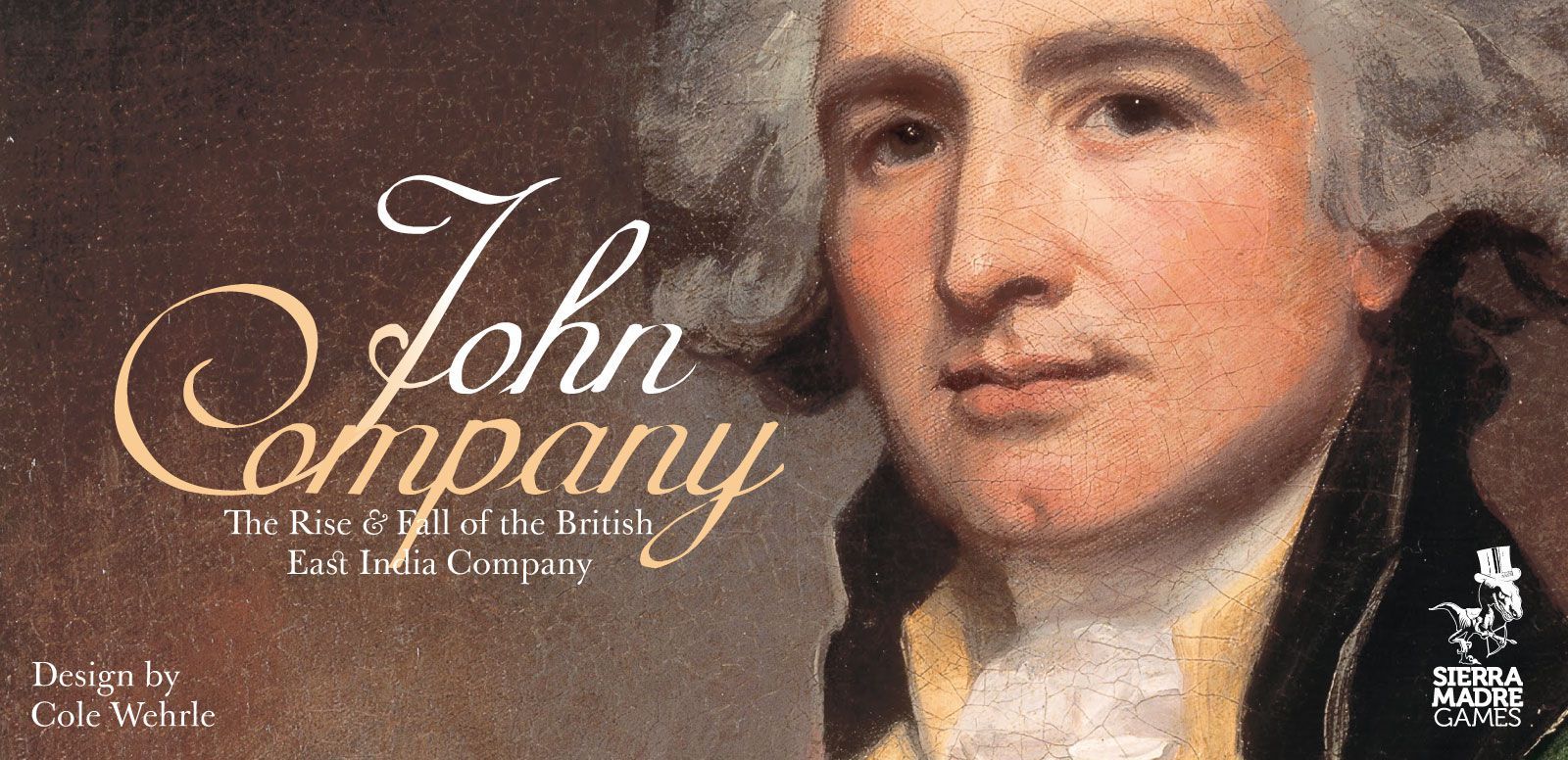 Over its 250-year history, the British East India Company grew to become one of the most influential commercial and political organizations in the world. Its profits catapulted the British Empire to global dominance and shaped the fate of some of the world's great nations, but its ascent was anything but easy. The Company was filled with diverging interests and struggled constantly at home and abroad. John Company attempts to tell the story of the British East India Company from the inside out. Players will steer their dynasties through the company's history, vying for position, power, and prestige. The goal of the game is simple: Use the Company and the Company's trade to secure your place in society back home. To this end, you guide your scions through their careers, exchanging favors for positions in London or plush colonial posts. Players collectively control the Company, facing tough budgetary decisions and conflicting interests. Should a Governor conduct a campaign to expand company holdings or invest in his region's infrastructure? Perhaps the honest tax revenues would be better diverted to expand his summer estate back home... As the game continues, the Company may face open rebellion in India or outright failure as it grapples with increasingly bold attempts at regulation from the British government. It's even possible that the Company's trade monopoly will be revoked, leaving the players to form and operate their own trading firms. Each game offers a huge range of possibilities, informed chiefly by the decisions the players make. In addition, players can tailor their experience by using one of the three tournament scenarios that cover the Early, Mid, and Late Company that can be played in about 90 minutes. The game also offers a full campaign game that will take players from 1720 to 1857 in an evening. Taking its inspiration from Phil Eklund's seminal Lords games, John Company offers Greed Incorporated by way of Republic of Rome — and with only sixty cards and multiple scenarios, John Company is one of the most accessible SMG offerings to date. —description from the publisher
---
Und natürlich der wunderbare: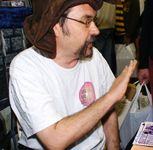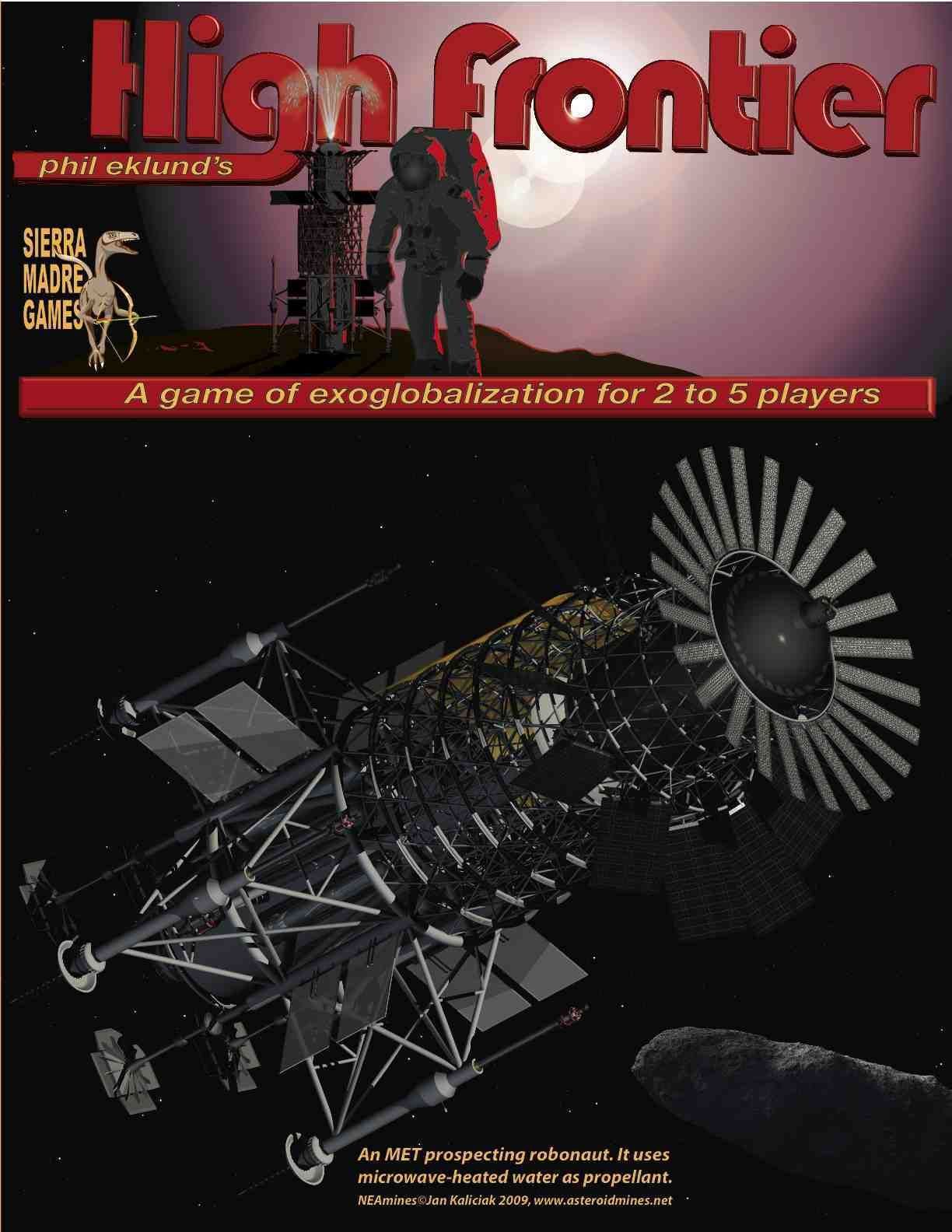 In the near future, nanofacturing techniques will allow incredible new materials to be built atom by atom. But they can only be built in the zero-gravity and high-vacuum conditions in space. Various private and government enterprises race to establish a buckytube mechanosynthesis factory on a suitable carbonaceous asteroid. To do so, they accumulate tanks of water in orbiting fuel depots, to be used as rocket propellant. Also needed are remote-controlled robonauts to do the grunt work. The key to success is water in LEO (low Earth orbit). At first, water will be expensively supported out of the deep gravity well of Earth. But for a third the fuel and energy, water can be supplied from Luna, the moons of Mars, or other nearby hydrated objects. Extracting resources at the work site is called In-Situ Resource Utilization (ISRU). Whoever develops ISRU technology able to glean water from space rather than Earth will gain the strategic high ground to make money through exoglobalization. In High Frontier, players are Earth governments which are racing to put together a functioning space program to extract resources and colonize the other planets, moons, and asteroids in our solar system. Players use water in LEO as currency to bid on space-related patents for thrusters, refineries, and robotics. Putting together a functional craft is not easy, as the heavier the craft becomes, the less maneuverable it is and the more fuel (also water in LEO) the craft will require, so players have to balance useful heavy parts with lighter, less functional parts. Victory points are awarded for successful mineral extractions, and for being the first to reach key technologies and exploration points in the solar system. Now in its second edition.
---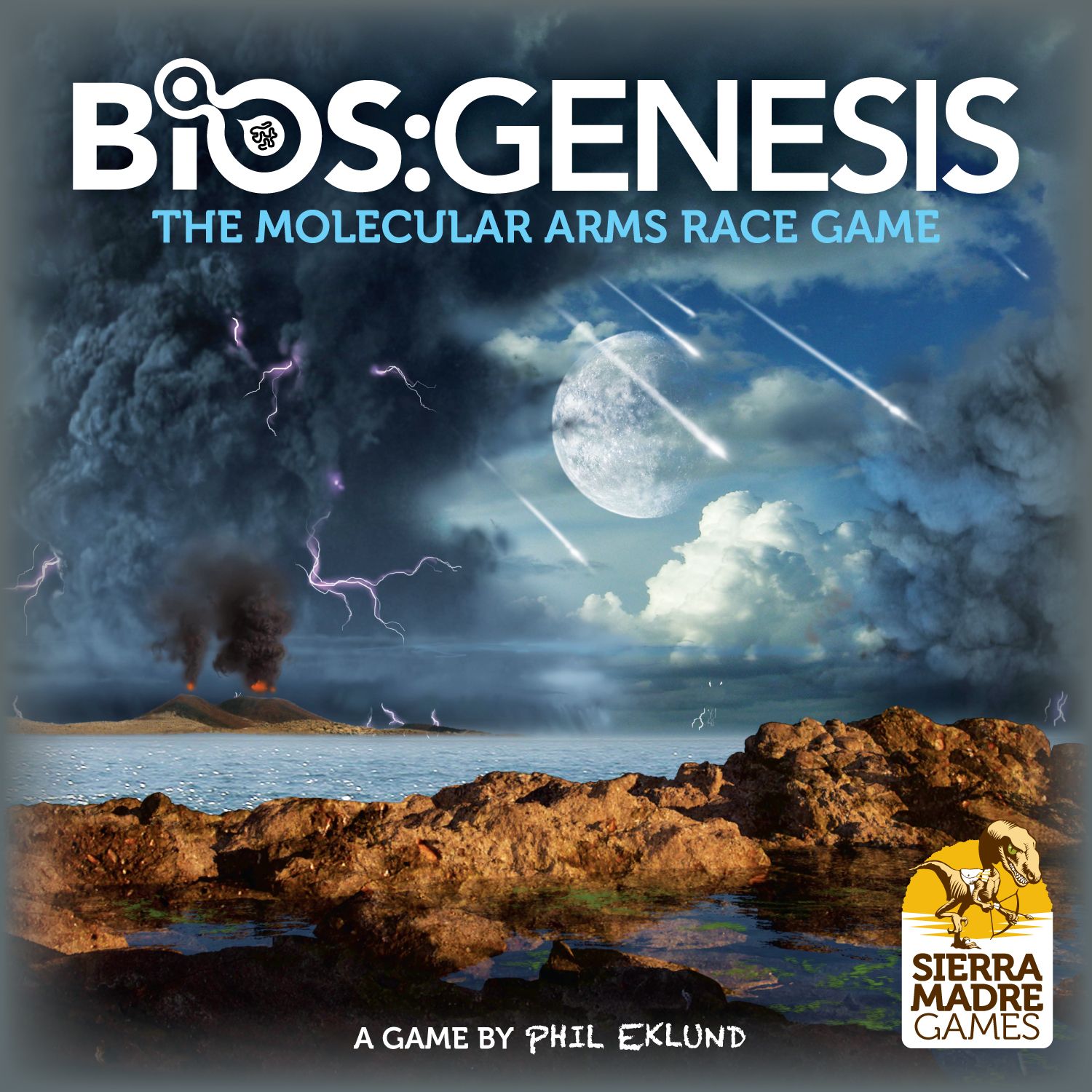 Description from the publisher: In Bios: Genesis, one to four players start as organic compounds shortly after Earth's formation, represented by up to three Biont tokens. The Amino Acids command Metabolism, the lipids create cells, the pigments control energy absorption and storage, and the nucleic acids control templated replication. Their goal is a double origin of life: first as Autocatalytic Life (a metabolic cycle reproducing, yet not replicating, its own constituents), and the second as Darwinian Life (an Organism using a template to replicate in an RNA world). Players can play cooperative, competitive, or solitaire. Notes designer Phil Eklund, "This subject is the most difficult and ambitious I have ever attempted, and it has taken many years to get it to work right." With Bios: Genesis, Bios: Megafauna, and Origins: How We Became Human, Eklund takes players through almost the whole breadth and scope of life on Earth.
---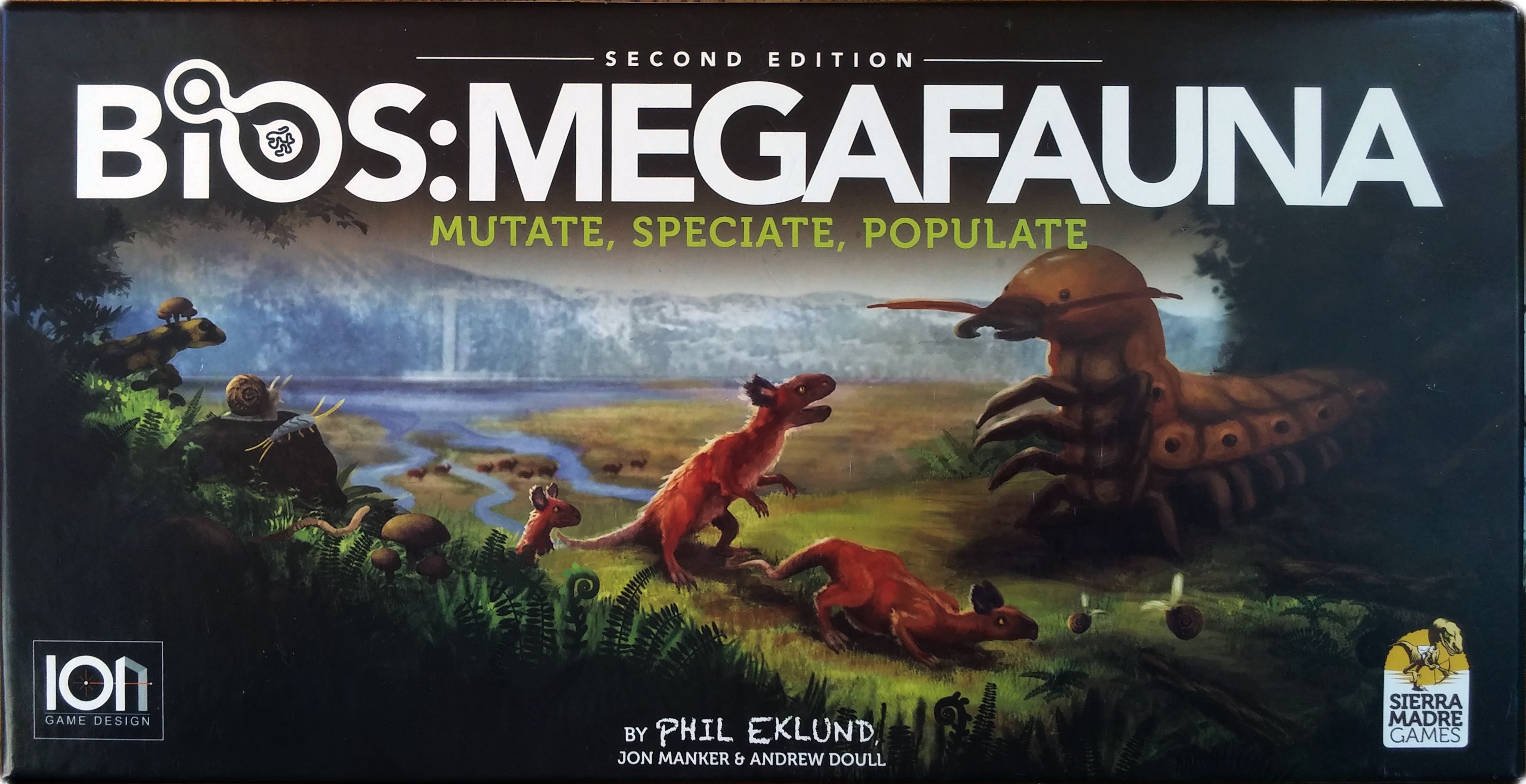 Bios: Megafauna starts where the predecessor game Bios: Genesis left off, with the invasion of the land on the daybreak of the Phanerozoic eon. Starting as either a plant, mollusk, insect, or vertebral skeletal type, your flapping, paddling, and squawking carnivores and herbivores make a beachhead on one of the drifting continental plates in the Cambrian, Their struggle for terrestrial dominance may eventually include language-based consciousness. Although this achievement elevated a certain mammal species to notoriety, in your game things may occur differently. This second edition of Bios: Megafauna is an evolutionary descendant of American Megafauna but as a part of the Bios series of games it is linked to the game Bios: Genesis. It plays well independently but if you have both games you can let the end state of a game of Bios: Genesis affect the starting state of a game of Bios: Megafauna. A successor game, called Bios: Origins (which would be a descendant of Origin), is planned to cover the events of the Quaternary period including the rise of ideas and technology. —description from the publisher
---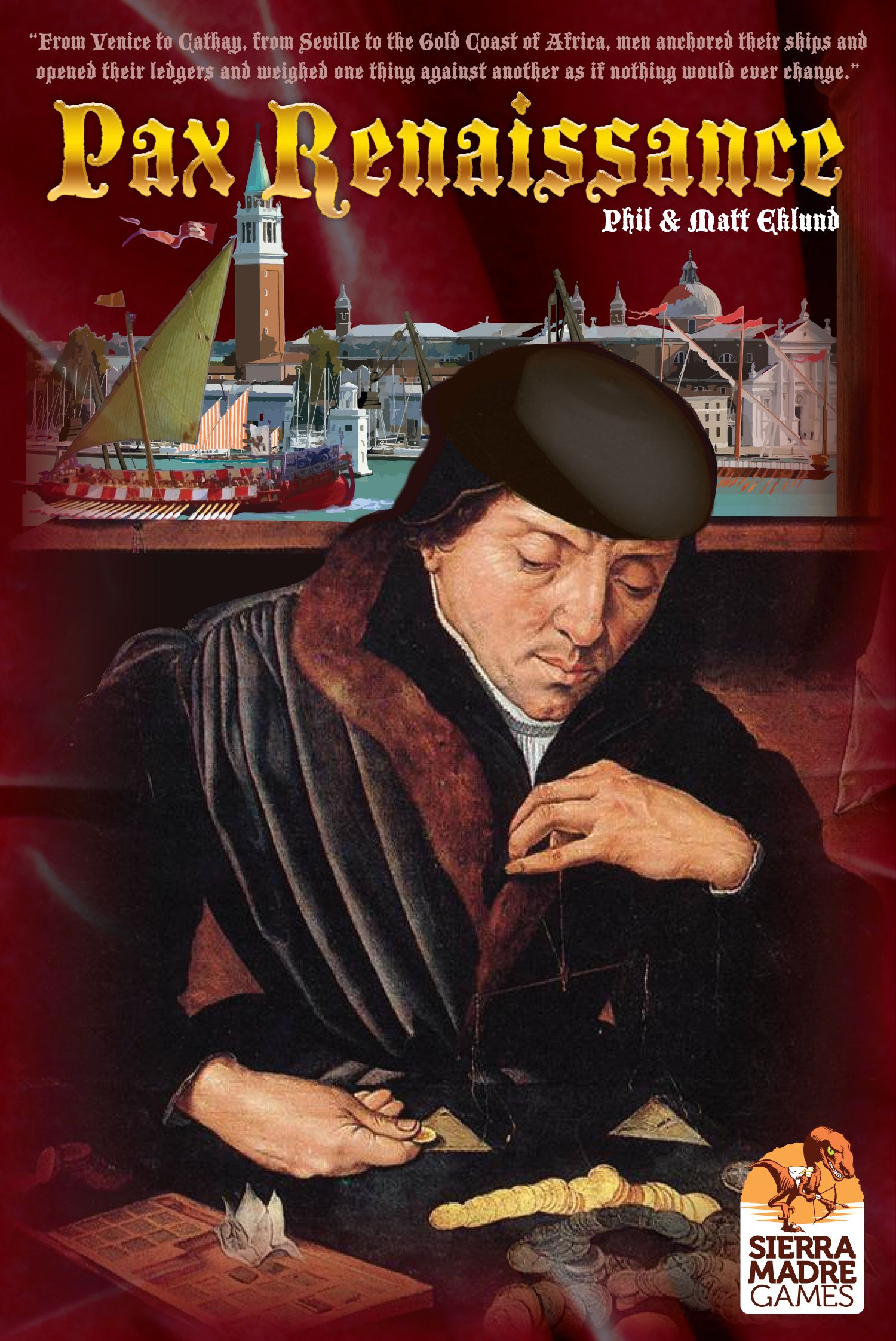 As a Renaissance banker, you will finance kings or republics, sponsor voyages of discovery, join secret cabals, or unleash jihads and inquisitions. Your choices determine whether Europe is elevated into the bright modern era or remains festering in dark feudalism. In Pax Renaissance, you have two actions each turn. As in other Pax games, you can acquire cards in a market, sell them out of the game, or play them into your tableau. You can also stimulate the economy by running trade fairs and trading voyages for Oriental goods. A map of Europe with trade routes from Portugal to Crimea is included, and discovering new trade routes can radically alter the importance and wealth of empires, ten of which are in the game. Four victories determine the future course of Western Society: Will it be towards imperialism, trade globalization, religious totalitarianism, or enlightened art and science?
---