Spiele zu viert
Spiele zu viert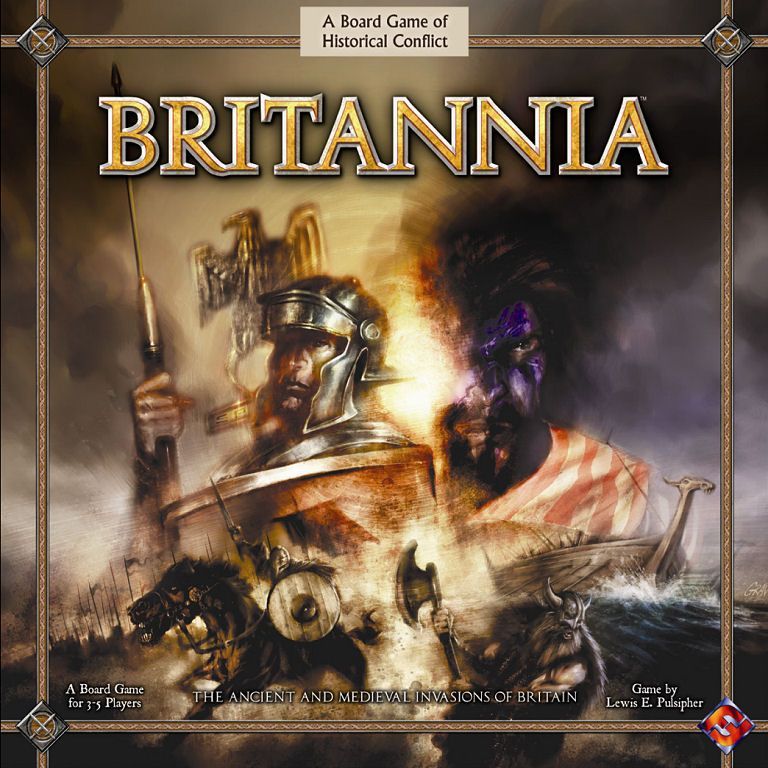 Game Details
Name
Britannia (1986)
Complexity
Medium [3.17]
BGG Rank
664 [7.21]
Player Count (Recommended)
3-5 (4)
Designer(s)
Lewis Pulsipher
Artist(s)
Alex Anders, Mark Bromley, Guy Gentry, Norbert Gräf, Tomasz Jedruszek, Patrick McEvoy, Kurt Miller, George I. Parrish, Jr., Ted Pendergraft, Lewis Pulsipher and Günter Vojtek
Publisher(s)
The Avalon Hill Game Co, Delta Vision Publishing, Devir, Edge Entertainment, Esdevium, Fantasy Flight Games, Gibsons, Heidelberger Spieleverlag and Welt der Spiele
Mechanism(s)
Area Movement, Dice Rolling, Stat Check Resolution, Turn Order: Stat-Based and Voting
Britannia is a historical board game that broadly depicts the millennia-long struggle for control of England, Scotland, and Wales. The game begins with the Roman invasion of 43 A.D., continues through the many struggles between Angles, Saxons, Picts, Norsemen, Scots, Irish, and other tribes, and ends with the Norman invasion of 1066. Britannia allows players to re-create this epic history, re-enacting important battles in some cases, altering the course of history in others. The game rules discourage players from making historically unrealistic moves, but also give players the freedom to alter Great Britain's history in important ways, creating countless interesting "what if?" scenarios. What if Boudicca's Revolt against the Romans had been more successful? What if the Romans and the Romano-British had repelled the Saxon invasions of the 5th and 6th centuries? What if William the Conqueror had died during the Norman invasion of 1066? In Britannia, the players will determine the destiny of a kingdom.
---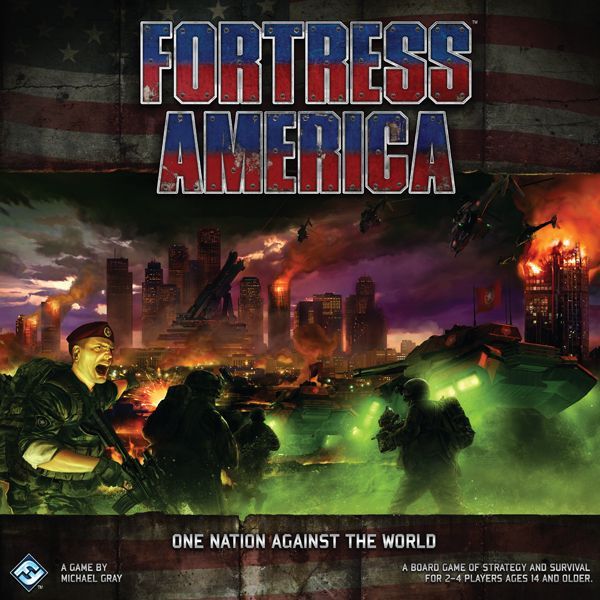 Game Details
Name
Fortress America (2012)
Complexity
Medium [2.70]
BGG Rank
2464 [6.85]
Player Count
2-4
Designer(s)
Michael Gray
Artist(s)
Uncredited
Publisher(s)
Fantasy Flight Games
Mechanism(s)
Area Movement and Dice Rolling
Game description from the publisher: In Fortress America, the United States must defend itself from three deadly invading armies: the Asian People's Alliance from the West, the Central American Federation from the South, and the Euro-Socialist Pact from the East. Players take on either the role of the United States, struggling to protect itself from foreign threat, or the role of one or more of the invading armies, fighting battle after battle to acquire important territories. If the invading forces claim enough U.S. cities, America's defense is broken and the nation falls. But if the United States can protect its cities for long enough, the invading forces fail to uproot America and their incursion is ended. Fortress America is played over several rounds in which each player musters his forces, moves into enemy-controlled territories, and engages in fierce firefights. But depending on whether you're the U.S. player or one of the Invaders, your play experience and general strategy will be entirely different. The U.S. must efficiently wield its colossal lasers, the ultimate weapons of mass destruction, in its own defense. What's more, as U.S. hovertanks, helicopters, bombers, and infantry are destroyed and removed from the map, a steady supply of American guerilla fighters spring up to defend their homeland. The U.S. player is surrounded and alone, and must do his best to fend off advances on three fronts in a series of tense battles. The Invaders, on the other hand, must remain constantly aggressive. Their objective is to collectively capture 18 of 30 major U.S. cities, and to do so, they must apply early pressure before the U.S. has a chance to react, and keep the pressure constant. To complicate the Invaders' mission, their armies do not receive additional reinforcements, so they must make optimal use of the forces at their disposal. Through a series of nail-biting battles that use a unique dice-based combat system, each player will maneuver his dwindling armies to secure his objective. But can America be stopped, or will a failed invasion only compel them to tighten their military grip on the world. Changed in this edition: Custom combat dice, debatable if better than normal dice. A ten-turn timer gives the U.S. player an additional path to victory: outlasting the invasion. A "Captured City" track lets all players see, at a quick glance, how close they are to victory or defeat. A few city locations have been removed, and others added, to create a different (possibly more balanced) play experience. A deck of variant cards for the Invader players has been added to use as a rules option (equal to 1-2 balance levels). Reimplements: Fortress America (1986)
---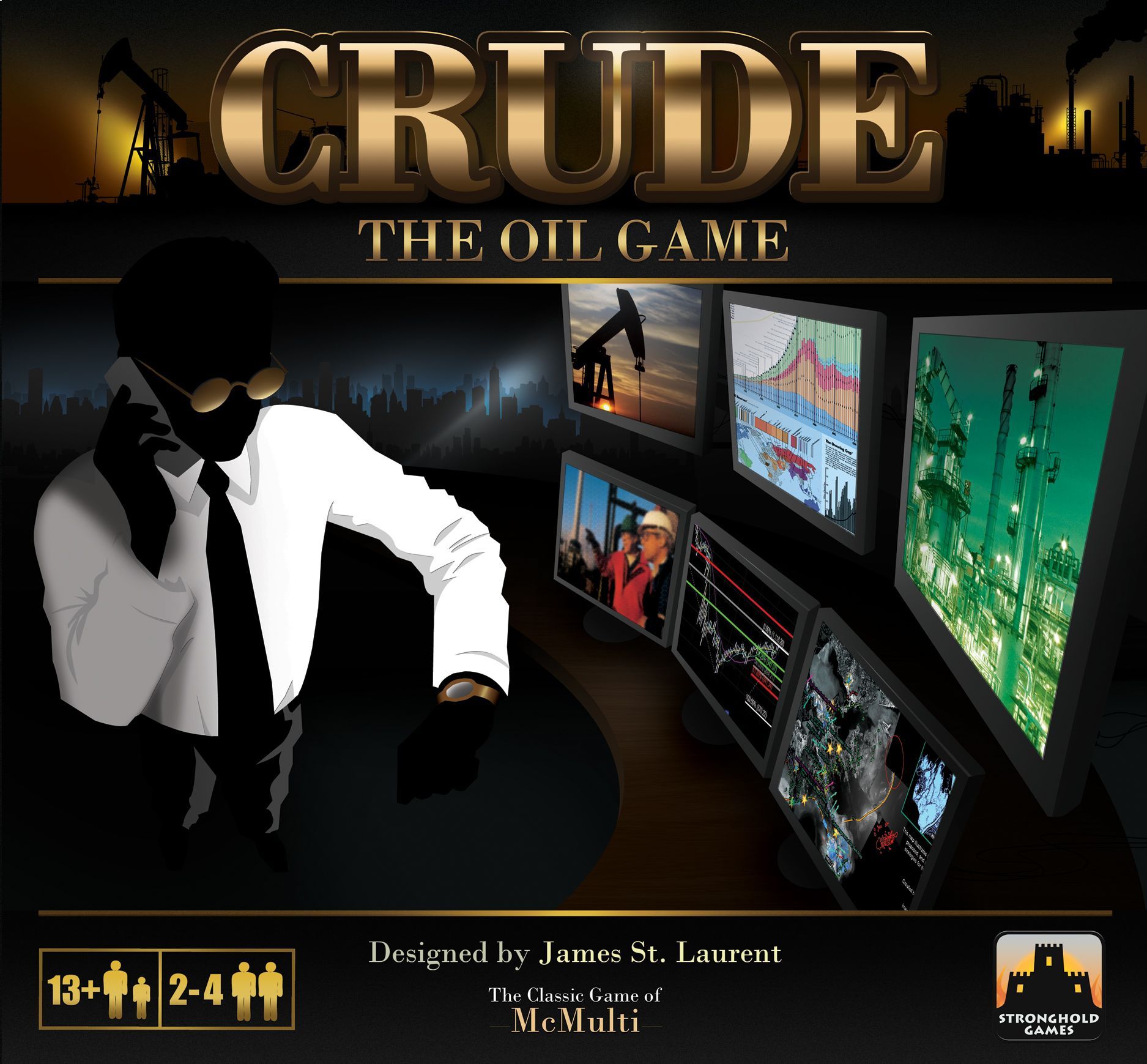 Game Details
Name
Crude: The Oil Game (1974)
Complexity
Medium [2.74]
BGG Rank
2233 [6.72]
Player Count (Recommended)
2-4 (3-4)
Designer(s)
James J. St. Laurent
Artist(s)
William Bricker
Publisher(s)
St. Laurent Games, Hexagames (I), Pegasus Spiele and Stronghold Games
Mechanism(s)
Commodity Speculation, Dice Rolling and Tile Placement
In Crude: The Oil Game, players take on the role of oil company CEOs, seeking to expand their companies into multi-national energy mega-corporations. Just as with real world energy companies, player will setup facilities for oil drilling, oil pumping, oil refining into gasoline, and gasoline selling to the consumer... all of which are represented by actual plastic pieces placed on the board! Players also speculate by buying and selling oil and gasoline barrels in both the domestic and foreign markets... again represented by actual plastic barrels in their playing area! However, the changing economic climate, as well as sudden world news events, will challenge players to keep a long-term strategic view of the world energy markets. The first player to reach a corporation value of $750 million is the winner! Crude: The Oil Game is not only a great simulation of the global oil markets, but with almost 300 plastic playing pieces, it is a sight to behold! Known as McMulti when it was printed in Europe almost 25 years ago, this great game is finally back in print after many years! Brought back into print in 2012 by Stronghold Games, Crude: The Oil Game has been a highly sought-after ("Grail") game. This is an early Euro-style game – before Euro-style existed! – which accurately simulates the market forces and elements of the oil and gasoline markets at all levels of production, including oil drilling, oil pumping, oil and gasoline buying and selling in the domestic and foreign markets, oil refining, and finally gasoline selling to the consumer.
---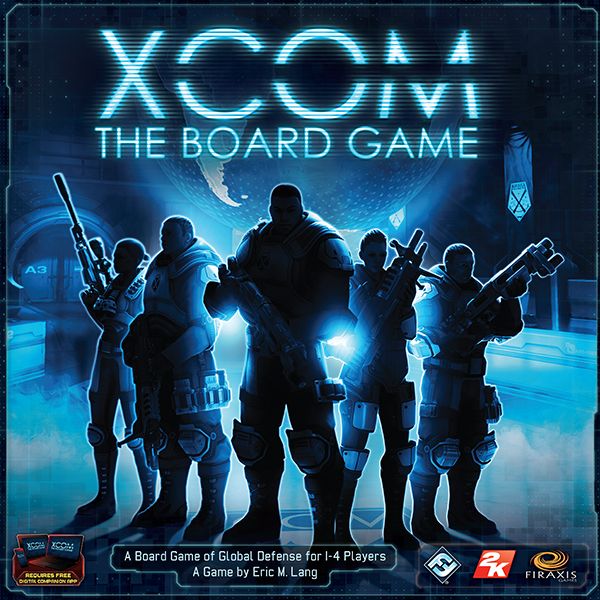 Game Details
Name
XCOM: The Board Game (2015)
Accessibility Report
Meeple Like Us
Complexity
Medium [2.90]
BGG Rank
609 [7.07]
Player Count (Recommended)
1-4 (2-4)
Designer(s)
Eric M. Lang
Artist(s)
Uncredited
Publisher(s)
Fantasy Flight Games, 2K Games, Inc., ADC Blackfire Entertainment, Edge Entertainment, Firaxis Games, Inc., Galakta, Galápagos Jogos, Giochi Uniti and Heidelberger Spieleverlag
Mechanism(s)
Cooperative Game, Dice Rolling, Hand Management, Push Your Luck and Variable Player Powers
Game description from the publisher: You are humanity's last hope. In XCOM: The Board Game, you and up to three friends assume the roles of the leaders of the elite, international organization known as XCOM. It is your job to defend humanity, quell the rising panic, and turn back the alien invasion. Where the world's militaries have failed to stand against the alien invaders, you must succeed. To do so, you must make strategic use of the resources available to you. You must launch Interceptors to shoot down alien UFOs, assign soldiers to key missions, research alien technology, and use that technology to defend your base — all while trying to keep the world from collapsing just long enough that you can coordinate one final mission to repel the invaders for good. One of the more notable aspects of XCOM: The Board Game is the way that it incorporates a free and innovative digital app into the core of its gameplay. This digital companion will be available both as a downloadable app and as an online tool. The app's primary function is to coordinate the escalating alien invasion, randomly selecting from one of five different invasion plans. Each invasion plan represents a general outline that the alien commanders will use to coordinate the arrival of new UFOs, plan strikes against your base, and respond to your successes or failures as it seeks to conquer Earth. The app manages all of these tasks and heightens the game's tension as it forces you to respond in real-time. Then, after you move quickly to coordinate your response, you engage the enemy in the untimed resolution phase and feed the results to the app. Based upon these results, the app launches the invasion's next strikes. Additionally, the app teaches you the rules, controls the information that your satellites provide you, and tracks the progress of your resistance efforts, even as it allows you to enjoy the game at any of three levels of difficulty: Easy, Normal, or Hard. The use of this app does more than simply streamline your play experience and track your turns in real-time; it also permits a uniquely dynamic turn structure. While the variety of game phases remains the same from round to round, the order in which you and your friends must play through them may change, as may the number of a given phase. As a result, while you'll want to know where UFOs appear before you deploy your Interceptors, the alien invaders may be able to disrupt your satellite intel and force you to deploy your Interceptors on patrol with limited or no knowledge of the UFOs current whereabouts. Similarly, you may be forced to think about the costs of resolving the world's crises before you know how many troops you'll need to commit to your base defense. The effect of the app is to immerse you deep into the dramatic tension at the core of XCOM: The Board Game, and it ensures that the game presents a challenging and cooperative (or solo) experience like no other. Just like the XCOM department heads that you represent, you'll need to keep cool heads in order to prevail.
---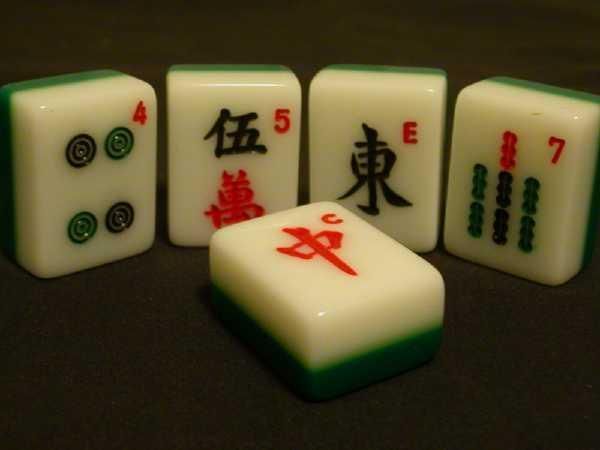 Game Details
Name
Mahjong (1850)
Complexity
Medium [2.57]
BGG Rank
715 [7.02]
Player Count (Recommended)
3-4 (4)
Designer(s)
(Uncredited)
Artist(s)
Barbro Hennius
Publisher(s)
(Public Domain), (Unknown), A. D. Richter & Cie., Alga, ASS Altenburger Spielkarten, Blizzard Entertainment, Brevete S.G.D.G., Cardinal, Carlsberg, Cayro Juegos, Chad Valley Co Ltd., CHH Games, Chinese Arts & Crafts, Creative Crafthouse, Crisloid, Dal Negro, De La Rue, Dilemma Games, E.S. Lowe, Educa Borras, Fame Products, Franz Schmidt, Geoludie, Gibsons, Golconda, Golden, Grapet, Grow Jogos e Brinquedos, Guanhua (冠華), H. P. Gibson & Sons, Hartung-Spiele, Intercontor AG, John Jaques of London, John Lewis, John N. Hansen Co., Inc., John Sands Pty Ltd, Kerry's Mah Jong, Kirjalito, KR, Longfield Games, Michael Stanfield, Miro Company, Monkey Pod Games, National Games, Inc., National Mah Jongg League, Inc., Olsen, Parker Brothers, Perry & Co. Ltd., Philos, Royal Depth, Schmidt Spiele, Skor-Mor, SPM - Syarikat Permainan Malaysia, Sterling Games, SYU Creation, U3, Wizards of the Coast, Wood Expressions, Woodstock Spiele, Yellow Mountain Imports and Zontik Games
Mechanism(s)
Hand Management and Set Collection
Mah-Jongg (Chinese 麻將/麻将 Májiàng [game of the] sparrow) is a traditional Chinese game using illustrated tiles, with game play similarities to rummy. It is a popular gambling game, but wagering real stakes is by no means necessary to have fun playing. The tiles consist of three suits numbering 1-9 (Dots, Numbers or Characters, and Bamboo, the "Ace" of which almost always looks like a bird), three different dragons (Red, Green, and White [white is unusual in that it may look like a silvery dragon, or like a picture frame, or blank - think "White dragon in a snowstorm"), and the four winds (east, south, west, and north). There are four copies of each tile. This totals to 136 tiles. In addition, special Flower, Season, and Joker (American version) tiles may also be used. Four players take turns drawing from a stock (the wall), or from the other players' discards, in an attempt to form sets of numeric sequences (e.g., 5-6-7 of the same suit, which can only be drawn from the player at one's left, by calling "Chow"), triplets and quadruplets (which can be drawn from the discards out-of-turn by calling "Pung"), pairs, and other patterns. "Pung" takes precedence over "Chow", and "Mah Jongg" takes precedence over all (and is the only situation one may draw "Chow" out-of-turn.) What happens if a single discard would give two (or more!) players "Mah Jongg"? Precedence goes to the player who would play next in normal sequence. Originating in China in the mid-19th century, it was introduced to the U.S. in the 1920s. It is now played in different forms throughout Asia, Europe, North America, Australia, and New Zealand. Although the rules for game play are fairly constant, there are an immense variety of scoring schemes. A few general categories of rule-sets include: Chinese Classical, Hong Kong Old Style, Japanese, Taiwanese, Western, and American.
---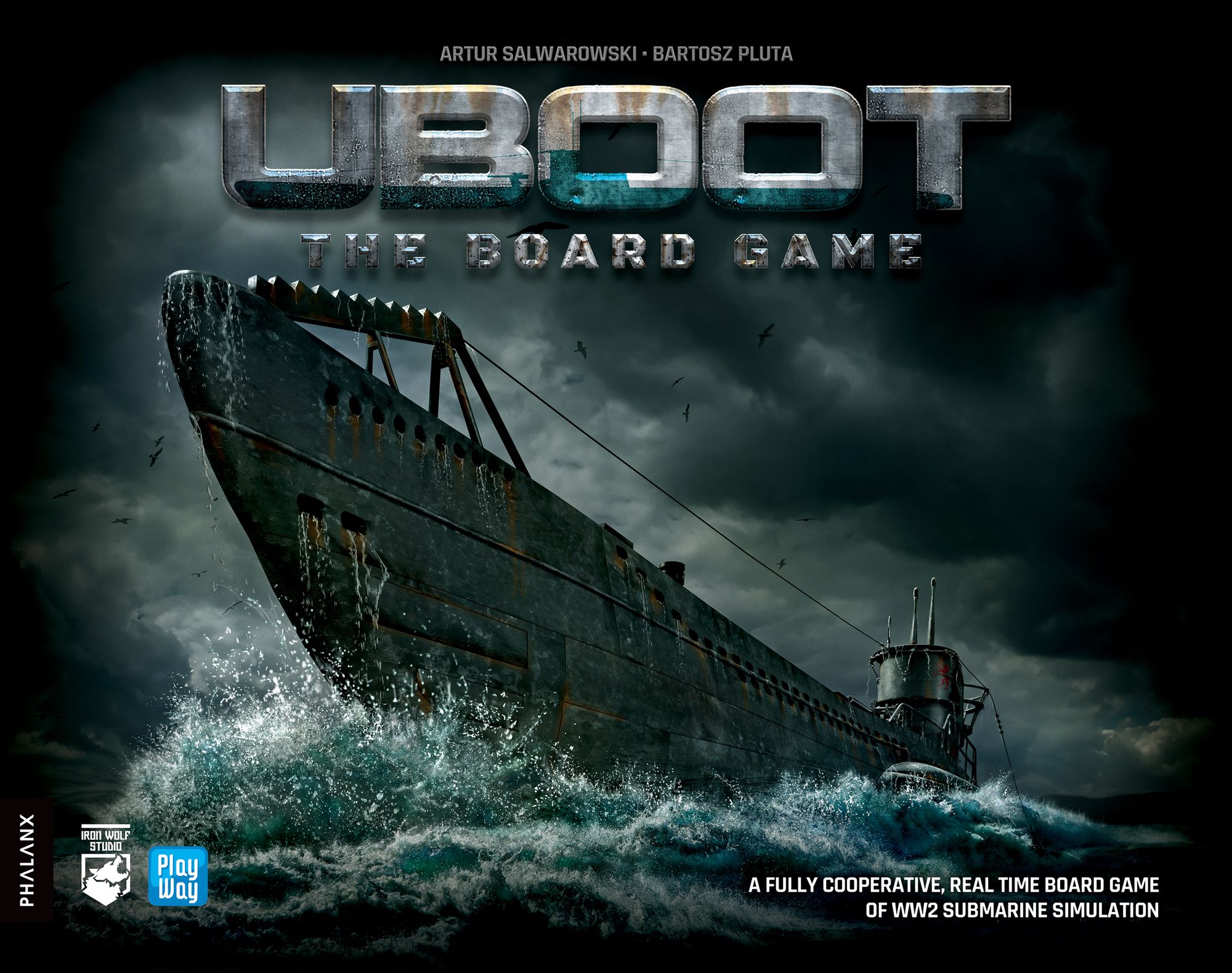 Game Details
Name
UBOOT: The Board Game (2019)
Complexity
Medium Heavy [4.03]
BGG Rank
1117 [7.90]
Player Count (Recommended)
1-4 (2-4)
Designer(s)
Bartosz Pluta and Artur Salwarowski
Artist(s)
Chris Clor
Publisher(s)
PHALANX, ASYNCRON games, Cranio Creations, CrowD Games, Ediciones MasQueOca, Galápagos Jogos and Pegasus Spiele
Mechanism(s)
Action Points, Cooperative Game, Simulation, Solo / Solitaire Game and Worker Placement
U-BOOT: The Board Game is a fully cooperative, real-time tabletop game of WW2 submarine warfare, designed by Iron Wolf Studio. It allows 1 to 4 players to assume the roles of the Captain, the First Officer, the Navigator, and the Chief Engineer on board of a type VIIC U-boat. The game is driven by a companion app, allowing for an unprecedented level of realism, as well as a challenging enemy A.I. which will push your skills to the limit. The action unfolds both on the strategic and the tactical scale, always demanding teamwork, efficient crew management, and quick situation assessment. Each of the four roles entails unique responsibilities, encouraging the players to develop an efficient communication scheme and use genuine navy terminology. The Captain oversees the completion of mission objectives, supervises action point costs, and is responsible for the crew's morale. The First Officer operates the companion app, manages the flow of information, and takes care of the crew's health. The Navigator steers the submarine by setting its course and depth, but also updates all the essential information on the strategic, and the tactical map. Last, but not least, is the Chief Engineer, who is responsible for the engines, repairs, as well as other mechanical implements on board of the U-boat (such as the ballast tanks, weapon systems, etc.). At the same time, each of the four officers commands his own group of crew members by issuing orders within a worker placement system. The idea behind the companion app is to deliver a real-time, realistic gameplay experience. To that end, the app features the most essential instruments of the u-boat (such as the periscope, the hydrophone, and the Enigma, among others). Rest assured, however, that the vast majority of gameplay traditionally takes place on the game board, with the instruments revealing otherwise hidden information, and the app requiring only certain data (such as the U-boat's course, speed, etc.) in order to generate an adequate A.I. response of the enemy force. It is also responsible for all the ambient sound effects, thus immersing the players even deeper into the claustrophobic interiors of the type VII C. But fear not! With open & play being a design priority, you will be launching torpedoes in no time, thanks to streamlined rules, video tutorials, and variable difficulty levels for each player. From quick skirmishes, through full combat missions, to an all-out campaign, UBOOT: TBG will let you conduct submarine operations in all major naval theatres of the 2nd World War. Success of these missions hinges on the completion of various tasks delegated to the crew by the Oberkommando der Kriegsmarine (German Navy HQ), which include patrol duty, ambushing convoys, laying mines in enemy waters, and many more! Each mission will require the players to adopt various strategies and different play styles in order to successfully complete it, and the companion app will generate a detailed report at the end of each game session (evaluating player efforts, and possibly awarding decorations, promotions, etc.). That is, if the U-boat makes it back home... The stage is set and the crew is awaiting your orders. Do you have what it takes to command the Kriegsmarine's finest? Hunt or be hunted, as you brave the stormy seas of the greatest conflict in history! —description from the creator
---